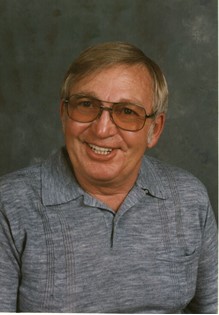 Adrian Komrs
Oct 15, 1926 - May 8, 2013

Adrian Komrs, 86, of Riverton, died Wednesday, May 8, 2013, at Riverton Memorial Hospital. As were his wishes, cremation has taken place. A celebration of life will be held on Saturday, June 22, 2013, at 2:00 pm at the United Presbyterian Church. Pastor Linda Norris will be officiating.

Adrian James Komrs was born on October 15, 1926 in Hardin, MT to Jerry and Elizabeth (Cline) Komrs. He grew up in Hardin and attended schools there.

He joined the Army during World War II and served in the Philippines and Korea helping to build the Kimpo Air Base at Seoul, South Korea.

On April 9, 1949, he married his wife of 64 years, Reeda Hunt in Greybull, WY. They spent their entire married live in Riverton, where they raised three children.

He started working as an apprentice in Greybull with Mountain State Power in 1948 and transferred to Riverton in 1949, where he continued to work for Pacific Power for 42 years. He retired in 1990.

He was very active in his community having volunteered as a fireman for 14 years, coaching Little League Baseball for 15 years, was a former member of the Jaycees, a member of the Elks, and was past commander of the VFW.

His family said he loved to fish, garden and doing woodworking. He cherished his children and grandchildren, following them in all their sports and activities. He was a devoted husband and father. His family was his life.

He is survived by his wife of 64 years, Reeda, of Riverton; his sons, Randy Komrs of Lander and Scott Komrs of Riverton; his daughter, Elaine Komrs of Fort Collins, CO; his five grandchildren, Terry (Crystal) Komrs of Billing, MT, Rusty Komrs of Riverton, Robbie Komrs of Las Vegas, NV and their mother, Marilyn (Curtis) Hennrich of Cowley, WY and Kelton; Jarah Adrianna (Mat) Grashorn of Fort Collins, CO, and Jesse (Kate) of Sneads Ferry, NC; and his great grandchildren, Gavin and Jameson Grashorn, Nikolas, Eriksen and Jeremiah Komrs, and Jordan Johnson.

He was preceded in death by his parents, Jerry and Elizabeth Komrs; his brother, Rudy Komrs; and his sisters, Edna Frost and Ollie Wolfe.

Memorials may be made to the United Presbyterian Church or Amedysis Hospice in care of Davis Funeral Home.

Arrangements are under the direction of the Davis Funeral Home. On-line condolences for the family may be made at www.TheDavisFuneralHome.com.