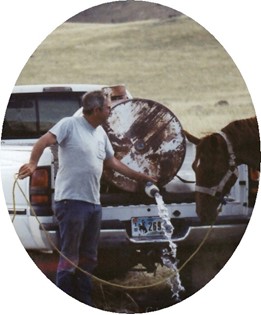 Curtis LeClair, Sr.
Feb 25, 1950 - May 20, 2013
No services are scheduled for Curtis E. LeClair, Sr., 62, of Ethete.

He was born February 25, 1950, in Fort Washakie, son of Edward LeClair, Sr. and Elta Mae (Cady) LeClair.

Curtis attended the Lander Vocational High School and also St. Stephens school.

He married Arleen J. Snyder on June 6, 1983, in Jackson, Wyoming.

Mr. LeClair enjoyed hunting, fishing, horse pack trips in the mountains. He also loved spending time with his grandkids, family and friends.

Curtis spent his entire life living in Fremont County where he worked as an outfitter/guide in his younger years and in construction. For most of his life he ranched his place on Ethete Road.

Survivors include his wife, mother, sons, Thomas (Jennifer) Brunswick of Granger, WY, Lisle (Estella) Monroe of Encampment, WY, Alan (Natalia) LeClair of Ethete and Curtis (Barbara) LeClair of Ethete; daughter, Rose (Russell) Norris of Morton; 17 grandchildren and 1 great grandchild; brothers, Edward (Kathy) LeClair of Malin, NM, Roy (Jeri) LeClair of Kinnear, and Mitch (Susan) LeClair of Boulder Flat, WY; sister, Alice Ferris of Fort Washakie, WY.

He was preceded in death by his father, grandson, Justin "Beaver" Norris, grandparents, 3 nephews, Ben Lee Ferris, Richard Ferris, Jr., Dennis Phillip.

On-line condolences for the family may be made at: theDavisFuneralHome.com.

Services are under the direction of the Davis Funeral Home of Riverton.