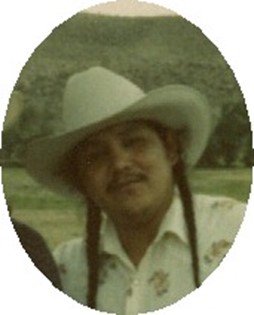 Stanford Friday
Jul 6, 1960 - May 26, 2013
Stan passed away at the Lander Regional Hospital from injuries he sustained in a car accident on May 26,2013. He was born on July 6, 1960 to the late Bernadine Friday and Duane Friday. Stan's Northern Arapaho name was Niicihii niitee. He was named after the late Stanford St. Clair. He grew up at and worked at the Arapaho Ranch. He was raised a traditional Arapaho man and cowboy. He danced and participated in the Sundance in Ethete. He attended school at Mill Creek Elementary School, Thermopolis High School, Hamilton Dome School, Fort Sill Indian School in Oklahoma and Wyoming Indian High Schools. He worked at the Arapaho Ranch for many years as a cowboy, rabbit chocker, and then followed in his father's footsteps and became the Arapaho Ranch Foreman. He also worked in the oil fields.

He was preceded in death by, Brothers, Wade and Dean Alan Friday, Mother, Bernadine Friday, Grandmothers, Angels Goggles and Effie Friday, Grandfathers, White O Goggles and Chester O Friday, numerous aunts, uncles and cousins.

Stan will forever be remembered by his survivors, brothers, Sanford, Nolan, Solo Friday, Eugene Goggles, and Lawrence Birdshead; sisters, Aleta Whitman, Angela Friday, Elizabeth Friday, Terry Garrow, Jolene Makeshine, Lowayne Friday, Colleen Friday, Christina Friday, and Wanda Birdshead; daughter, Muriel Friday and family; sons, Terrance Jenkins and Dennis Posey; God-children, Joey and Baby Sandy Friday, Garrett Wells, Hollis C and Caleb S Braten; aunts, Zetta Underwood and Linda Hurtado; uncles, Hubert Friday and Albert Dodge, Sr. Along with countless other adopted brothers, sisters, friends, and family.

He loved being with his family and having fun with friends. Stan enjoyed outdoor activities, such as hunting and fishing, he was know as the "Arapaho Noodler". He loved working with horses. He was known as a "horse whisper" but sometimes whispered the wrong things. He also was known for his sense of humor and how he could get anyone out of a sad or bad mood. Stan touched the lives of many people with his smile and generosity, and maintained his trademark sense of humor.

Friends and family are invited to attend a rosary on Thursday evening, May 30th at 7:00 p.m. at the Blue Sky Hall, in Ethete. The wake will be held at the residence of Elizabeth Friday at 154 17 Mile Road. A memorial service will be held at Blue Sky Hall at 10:00 a.m. on Friday, May 31st. Interment will follow at Friday Cemetery.

Arrangements are under the direction of the Davis Funeral Home. On-line condolences for the family may be made at www.TheDavisFuneralHome.com.