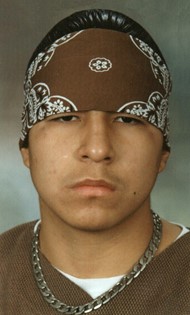 Dwight Spoonhunter
Jul 2, 1984 - Jun 9, 2013
Dwight "Moody Bluez" Spoonhunter, Sr., 28, of Arapahoe, died at Riverton Memorial Hospital on Sunday, June 9, 2013. A rosary will be held on Friday, June 14, 2013, at 7:00 p.m. at Great Plains Hall. A wake will follow at 331 Great Plains Road. Funeral Services will be held on Saturday, June 15, 2013 at St. Stephen's Catholic Church. Father Phil Wagner will officiate. Burial will follow at Arapaho Catholic Cemetery.

Dwight Moody Spoonhunter, Sr. was born on July 2, 1984 in Riverton, WY to Ward Micheal Spoonhunter and Reva Kay SunRhodes. He attended school at Arapahoe, Wyoming Indian, Walchter ND, and earned his GED from Chimmawa.

He was a life long resident of the Wind River Reservation. He worked as a laborer, roofer, janitor, and was an entrepreneur.

He was involved with basketball, weight lifting, hunting, fishing, football, drawing, drumming, and the Native American culture. His family said he loved spending time with his family, camping, and busting freestyles.

He was of the Catholic Native American Church. He was very involved with the Northern Arapaho ways.

He is survived by his mother, Reva; his sons, Dwight Moody Spoonhunter, Jr. and Ryu Eli Spoonhunter; his daughters, Georgina Maria Spoonhunter, Kirin Kaylee Spoonhunter, and Uneik Kay Spoonhunter; his grandparents, Laura Shakespeare, George West Shakespeare, Joyce Duran, Lorraine Duran, Delmer Duran, Sr., Claude Duran, Sr., Michael Duran, Ida Monroe, and Tommy Ybarra Sr.; his brothers, Ward Michael Spoonhunter, Michael Lee SunRhodes, Sr., Ronnie Blaze Jenkins, Sr., Thunder Little Thunder, Sr., Isaiah Spoonhunter, Shadow Eagle, Mathew Whiteplume, Travis Harris, Sr., Raymond LittleThunder, George LittleThunder Jr., Junior Brown, Clifton LittleThunder, Rueben Behan, Robert Behan, Ricky Behan, Stacy Medicine Top, Willow Pingree, Joseph Jenkins, Sr., Jude Chargingcrow, Stanly Charging Crow, Quinn Duran, Gage Duran, Craig Tillman, Levi Monroe, Ryan Monroe, Wolf Duran, Robert "Goofy" Ybarra, Adam Spoonhunter, Quavin Spoonhunter, Maurice Duran, Nano Duran, Shane Duran and Morry SunRhodes; his sisters, Whitney Marie SunRhodes, Leona Monroe, Kristina Behan, Delight Brown, Michelle "Shelly" Brown, Michelle "Shelby" Shakespeare, Delight SunRhodes, Cheryl Eagle, Trinity Shakespeare, Ronda Behan, Jori Lamebull, Lacy SunRhodes, Adelia Jenkins, Loretta SunRhodes, Mallori Shakespeare, Robin Behan, Tiffany Arthur, Delain SunRhodes, Estelle Ida LittleThuner, Kelly Jenkins, Darlene Spoonhunter, and Miceala Duran; his uncles, Ed Shakespeare, Loren Shakespeare, Shane Duran, Leo Monroe, Sr., Damon SunRhodes, James Pingree, George LittleThunder, Jr., Virgil Monroe, Michael Duran, Eric Underwood, Dominic Duran, Shadow Duran, Lamar Duran, Norman Ybarra, Tommy Ybarra Jr., Delmer Duran Jr., Ryan Spoonhunter and Alden Spoonhunter; his aunts, Alvinita LameBull, Elsie Shakespeare, Ramona Shakespeare, Sandra Paulson, Mary Ellen Pingree, Melissa LittleThunder, Angela Black, Vianna Behan, Diane Underwood, Chasity Duran, Chaliss, Erin, and Caroline Duran, Claudette Duran, Josephine Duran and Karen Black; his nephews, Michael Lee SunRhodes, Jr., Ronnie Jenkins, Jr., Antone LittleThunder, Tyray LittleThunder, Tookie LittleThunder, Blue Sky LittleThunder, Gabriel Brown, Uzel Brown, Josiah Brown, Sincere Brown, Joseph Jude Jenkins, Jr., Sameul Jenkins, Iziah Behan, Alejandro Behan,Victor Jacinto, Charlo Yellowfox III, Rueben Yellowfox, Robert Ybarra Jr., Javier Ybarra, Donimin SunRhodes, Rylan Chiles, Moony Sky SunRhodes, Damon Blaze SunRhodes, Trevyvale BigMedicine, Anthony BigMedicine, Whitehawk BigMedicine, Joson SunRhodes, Tyson Whiteplume, Jr., Alyiss Whiteplume, Morry White, Brindin White, Jr. and Clark SunRhodes; and his nieces, Wardina Wind Candace Ghostbear, Ada Mae Ghostbear, Brandi Eagle, Moleni Eagle, Emereld Eagle, Aliyah Eagle, Soraya Chiles, Zhone Brown, Shakeyah Brown, Shade BigMedicine, Jaylynn BigMedicine, Shawntay BigMedicine, Destiny BigMedicine, Trinity Yellowfox, Serenity Yellowfox, Eternity Yellowfox, Donna Rae Track, Melissa LittleThunder, Alexis LittleThunder, Talissa LittleThunder, Windina Soft, Fayla LittleThunder, Janeisa Whiteplume and Akira White.

He was preceded in death by his father, Ward Michael Spoonhunter; his sisters, Wardina Kay Spoonhunter and Shawna Maria SunRhodes; his grandmother, Estelle Duran SunRhodes; his grandfathers, Dwight Moody SunRhodes, Edd Shakespeare, Sr., Alfred Spoonhunter, Howard Spoonhunter, and Stanley Spoonhunter; his Sun Dance grandfather, Martin YellowHair; his great grandparents, Margaret Spoonhunter and Ward Spoonhunter; his uncles; Ronald J Behan Sr., Griz Shakespeare, Roderick Underwood and Clifford Duran; his aunts, Clarinda M Behan and Lorraine Monroe; and his nephews, Ronald J Behan, Jr. and Baby Bunz LittleThunder.

Services are under the direction of Davis Funeral Home. On-line condolences for the family may be made at www.TheDavisFuneralHome.com.