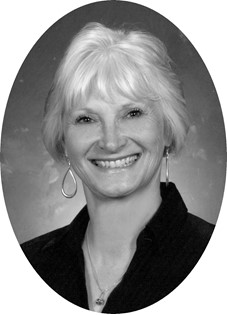 Judy Nethercott
Aug 17, 1947 - Jul 20, 2013
Judy Nethercott of Riverton, died tragically in an automobile accident on Saturday, July 20, 2013, when she was struck head-on by another vehicle while travelling on Interstate 80 in Utah. She was 65.

There will be a visitation of family and friends from 5:00 – 7:00 p.m. on Friday, July 26, 2013 at the Davis Funeral Home. Funeral services will be 9 a.m. on Saturday July 27, 2013, at Trinity Lutheran Church in Riverton with Pastor David Magruder officiating. A brunch will follow.

Cremation will take place following the services. Judith Lee Nethercott was born on August 17, 1947 in Norfolk, Nebraska, to Mervyn and Ardyce (Mittelstaedt) Wright. She graduated from Natrona County High School with the Class of 1965. She attended the University of Wyoming and spent her summers working in Jackson Hole where she met her husband of 38 years. Judy married the love of her life, Jim Nethercott, on April 18, 1971 and they spent their lives raising three children in Wyoming.

Judy was a loving and devoted mother and grandmother who always put her family first. She had a remarkable faith in God that gave her an incredible ability to press on in the face of great adversity. All who knew Judy appreciated her warmth, kindness, wit, courage and compassion. She was adored and beloved by her three children and five grandchildren.

She was a lifelong member of the Lutheran Church Missouri Synod and a member of Trinity Lutheran Church in Riverton for 25 years. As a member she was active in her faith by participating in altar guild, hand bells, and fellowship with her church family.

Judy worked for Central Wyoming College in the Financial Aide Department for 23 years until her retirement in October 2012. She loved the college and spoke fondly of all of the people and students she worked with over the years. She was an avid reader and enjoyed traveling with her family. She had a love of history and her favorite regions were New England and Washington D.C. She also enjoyed simple pleasures like shopping with her daughter Tara, daughters-in-law Sally and Slavka and coffee with good friends.

She is survived by her three children; son, Todd and his wife Sally of Alexandria, VA and their two children, Cannon and Elsa; son, Troy and wife Slavka of Leesburg, VA and their 3 children, Alex, Andrew, and Laura; daughter, Tara Nethercott of Cheyenne and her husband Robert Leazenby; her brother, Steve Wright and wife Pam of Springville, Utah; and their three children Jason Wright, Josh Wright, and Ashley Urie (Sundance), numerous extended relatives, and many friends.

She was preceded in death by her husband Jim on November 4, 2009, and her parents, Mervin and Ardyce Wright.

Memorials may be made to Trinity Lutheran Church, Trinity Lutheran School, or a charity of the donors' choice, in care of the Davis Funeral Home, 2203 West Main Street, Riverton, WY 82501.

Judy lived her life well, always valuing the two most important things in life, her faith and her family. Every day her loss will be profound and she will forever be deeply missed by her children and grandchildren.

On-line obituaries are available and condolences for the family may be made at: thedavisfuneralhome.com

Services are under the direction of the Davis Funeral Home of Riverton.