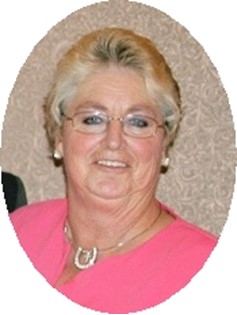 DaJuana Crichton
Feb 1, 1958 - Jul 24, 2013
DaJuana Crichton, 55 of Riverton died at Riverton Memorial Hospital on Wednesday, July 24, 2013. Cremation has taken place, as were her wishes. A memorial service will be held on Monday, July 29, 2013, at 10:00 am at the Church of Jesus Christ of Latter Day Saints Pavillion Branch. Bishop Doug Maddock will officiate.

DaJuana Bates was born in Dillon, MT to William David and Mary Louise (Moses) Bates. She grew up in Lima, MT before moving to Moneta, WY in 1974. She graduated from Shoshoni High School with the class of 1976 and was their Prom Queen that year.

On May 6, 1976 in Dell, MT she married the love of her life, Kenneth Wayne Crichton. Together they raised three children and had lived in the Riverton area for the last 37 years.

She was a full time homemaker and farm wife but she still worked outside the home also. She worked at Country Cove, the Bull and as a Certified Nurses Assistant at Wind River Health and Rehabilitation Center for years before going to work at QT's Restaurant at the Holiday Inn.

She was a past 4-H Leader, was in the Friends of the Fair and was the coordinator for the Bountiful Baskets in the Pavillion area. She was always involved in helping at the Fremont County Fair usually in more than one way, too.

Her family said that she was always on some adventure the latest one being Crichton Show Pigs, which she bred, farrowed, raised and sold as 4-H, show pigs. Again being involved with the fair in more than one way.

Her greatest love was her family and especially her 10 grandchildren to whom she was known as "MeMe". They were her world and she theirs.

She is survived by her husband, Kenneth of the family home; her son, William Walter (Stormy) Crichton; her daughters, Kimberly Ann (Steve) Crichton-Reifschneider and Sandra Maria (Tony) Crichton-Raffeto; her mother, Mary Louise Bates; her brother, Dan Bates; her sisters, Debbie (Allan) Fitch, Darla (John) Griffin, and Diane (Steve) Hampton; her mother-in-law, Catherine Crichton; her brother-in-law, Dave Peter, and her grandchildren, J.J. Crichton, Drew Crichton, Trysten Crichton, Ashtton Fus, Alyxis Fus, Saleena Reifschneider, Jordon Reifschneider, Emma Rae Reifscheider, Colton Reifschneider, and McKenzee Reifschneider.

She was preceded in death by her father, Bill Bates; her sister, DaLyn Peter; and her father-in –law, Walt Crichton.

Memorials may be made to Kenneth Crichton at Bank of the West for the DaJuana Crichton Special Fund for Fremont County Fair.

Arrangements are under the direction of the Davis Funeral Home. On-line condolences for the family may be made at www.TheDavisFuneralHome.com.