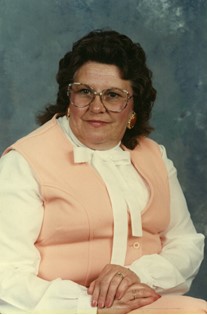 June Strickland
May 11, 1943 - Jul 27, 2013
June Strickland, 70 of Riverton died on Saturday, July 27, 2013, at the Wyoming Medical Center in Casper. As were her wishes, cremation has taken place. A memorial service will be held on Saturday, August 10, 2013 at 10:00 am at the Church of Jesus Christ of Latter Day Saints in Riverton.

June Ann Mix was born on May 11, 1943 in Casper, WY to Roy Leonard and Marian Clarice (Crane) Mix. She grew up and spent most of her life in Riverton and Fremont County.

She was a member of the Church of Jesus Christ of Latter Day Saints where she was in the Relief Society and was a Visiting Teacher.

She owned and operated her own upholstery business in Fremont County. She also was a teacher's aide for the Foster Grandparent Program and said it was her most satisfying work.

Her family said that she enjoyed sewing, crocheting, needlework, and gardening. She participated in the Fremont County Fair where she won several awards. She was a member of the Ladies Auxiliary VFW in Riverton and was a fixture with the Fremont County Homemakers for many, many years. Above all she enjoyed helping people.

She is survived by her son, John "J.R." Hackett and his wife, Kim; her daughters, Evelyn Jordan and her husband, Thomas and Marian Shepherd and her husband, Steve; her sister, Esther Decker and her husband, Shelly; her five grandchildren; her five great grandchildren; and two nieces.

She was preceded in death by her parents, Roy and Marian Mix and her husbands, Jack Hackett and Raymond Strickland.

Memorials may be made to Fremont County Homemakers in care of Davis Funeral Home, 2203 West Main, Riverton, WY 82501.

Arrangements are under the direction of the Davis Funeral Home. On-line condolences for the family may be made at www.TheDavisFuneralHome.com.