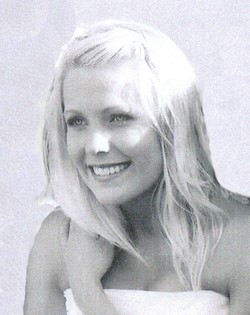 Lisa Nicole "Nicci" Herron-Apodaca
Aug 7, 2013 - Aug 7, 2013
A Star is Born. There is a brilliant new star on God's celestial canvas. And it's not hard to miss, twinkling brightly with hues of cobalt and azure. Thank you Heavenly Father for this gift.

Concurrent with the creation of the new star is God's reception of our beloved Lisa Nicole "Nicci" Apodaca. Nicci was unexpectedly called to Heaven on the afternoon of August 4, 2013. While only 31 years of age, and plagued with many health issues, she had a positive and loving attitude and kept grounded and moving forward. She tried to live each day to the fullest. She was a wonderful daughter, sister, best friend, and a great mother to her beloved daughter, Jaidyn Nicole.

Nicci was born in Riverton on a beautiful summer day, June 11, 1982 to Hal and Lisa Herron. She attended and graduated from Riverton High School. She was a dancer and also loved volleyball, soccer and music. She also attended Central Wyoming College where she earned her CNA. She had just signed up to complete her last couple of credits to pursue her dream of becoming a nurse. Listening to music, visiting dear friends, and creating jewelry occupied a great deal of her time.

In 2003, she married the love of her life, Ryan Apodaca, the father of Jaidyn. Although later divorced they remained close friends.

Nicci will be painfully missed by her daughter Jaidyn; mother, Lisa Larsen Herron; father, Hal Herron; sisters Brooke and Kayci Herron as well as her grandparents: Fredene and Robert Donahoo, Harold Herron, Lorraine Larsen, many aunts, uncles, and cousins. She leaves behind many dear friends whose lives she touched and her constant companion, her dog Poncho. Greeting her in Heaven is her beloved grandpa, Jack Larsen, who has already suggested she turn down the music.

What a blessing Nicci was to all who knew her… her unconditional love, enthusiasm, caring nature…and oh, those piercing, stunning blue eyes will be forever treasured. Thank you God for our star, Lisa Nichole.

Funeral services will be held on Friday, August 9, 2013 at 4:00 pm at Davis Funeral Home. A viewing will be on Friday, August 9, 2013 from 2:00 pm to 4:00 pm. Inurnment will be held at a later date.

In lieu of flowers, the family has requested memorials be made to The Jaidyn Herron Education Fund in care of Davis Funeral Home, 2203 West Main Street, Riverton, WY 82501.

Services are under the direction of the Davis Funeral Home. On-line condolences for the family may be made at www.TheDavisFuneralHome.com.