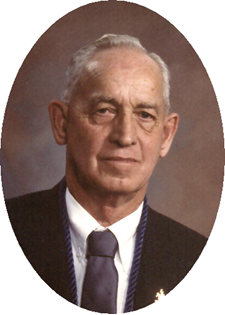 John Horton
Jun 29, 1929 - Aug 21, 2013
Funeral services for John Raemon Horton, 84, will be held 2:00 p.m., Wednesday, August 28, 2013 at Davis Funeral Home with Pastor Tim Senter of the Grace Bible Church in Lander officiating. Interment will follow at Mountain View Cemetery with committal rites by the Riverton Masonic Lodge #26 AF&AM. Visitation will be held 1:00 until service time Wednesday at Davis Funeral Home.

John died August 21, 2013 at the Wyoming Medical Center in Casper.

He was born June 29, 1929 in Rockford, Illinois, son of Kenneth R. and Olive D. (Glass) Horton.

He attended a 1-room schoolhouse for his first six years of schooling in Belvedere, Ill. He then attended junior high and high school also in Belvedere, Ill.

John married Evelyn Matthews on April 14, 1959, in Cody, Wyoming.

He was a member of the Grace Bible Church in Lander, Wyoming. He was also the past treasurer for the Riverton Sertoma Club, past treasurer for the 1st halfway house in Riverton, member of the Disabilities from Lander W.S.T.S., and was also a part-time driver for C.E.S. John was also a member of the Masonic Lodge since 1978 and was a past master from 1999 until 2000. He was a past high priest in the Royal Arch Masons and member of the Knight Templar. He also was on the Boys Advisory Counsel for Demolay for 4 years.

John enjoyed spending time and working at his home, shop, yard and flowers.

Survivors include his sons, Ronald and his wife, Della Horton of Riverton, John and Marlene Horton of Rockford, Ill, Mark and his wife Kathy of Denver, CO, step-son, Thomas and his wife, Velma Thomas of CA; daughter, Connie and her husband, Ron Lawson of Belvedere, Ill; brothers, David Horton of SD, Robert Horton of Ill and Charles Horton of Ill; sister, Julie Howe of Ill; numerous grand, great grand and great, great grandchildren.

Mr. Horton was preceded in death by his wife, parents, sons, Allan and Matthew and step-son, Wayne Oswald; brother Moritz Horton.

On-line condolences for the family may be made at: theDavisFuneralHome.com.

Services are under the direction of the Davis Funeral Home of Riverton.