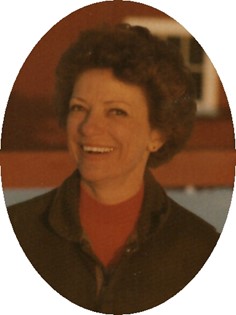 Loretta Brown
Sep 6, 2013 - Sep 6, 2013
Funeral services for Loretta Fay Brown, 79, will be held on Saturday, September 14, 2013 at 1:00 pm at Davis Funeral Home in Riverton with Pastor Mark Rader officiating. Cremation has taken place and a memorial marker will be set at Riverview Cemetery in Worland, Wyoming. Memorial contributions to the Help for Health Hospice Home would be appreciated in care of the Davis Funeral Home, 2203 W. Main Street, Riverton, WY 82501.

Loretta died on September 4, 2013 at the Help for Health Hospice Home in Riverton.

She was born on May 4, 1934, in Sunset, Oklahoma, daughter of Haurice "Honk" and Florella Welcome Woods Fausset.

As an infant, Loretta moved to Worland from Oklahoma with her family. Loretta graduated from Worland High School in 1952. She then attended the Asbury College in Kentucky for a year and later graduated from the University of Denver with a B.S. Nursing Degree in 1957. Loretta and her children moved to the family farm outside of Worland in 1970. She worked as a nurse for Dr. Whitemore. After this, Loretta was the Director of Nursing Services at Bethesday Care Center in Worland. She also worked as a realtor for several years. In March of 1987, she moved to Riverton to take the position of the Director of Nursing at Wind River Healthcare, owned by Hillhaven. She later became the Administrator of the healthcare facility, a job she truly loved, retiring June 1, 1996.

On May 6, 1995, she married Ken Brown at the United Methodist Church in Riverton.

She was an active member at the United Methodist Church in Riverton and Worland who enjoyed singing in the choir. She was also a member of the Riverton and Worland Soroptimists and the Meadowlark Good Sam Club.

Loretta loved life and took every opportunity to live it to the fullest. She loved to play golf, camp and ride her Honda 90 trail bike, fly fish, press flowers and make cards. She also enjoyed hunting birds and big game, riding horses, dancing, and playing the piano. She played clarinet in the University of Denver Marching Band. She absolutely loved to socialize, enjoyed traveling, and riding snowmobiles. Loretta was known to be a great cook, seamstress, and an avid skier working as a ski patrol at Meadowlark Ski Resort. Loretta loved spending time with her family.

Survivors include her husband, Ken of Riverton; sons, Allan Hill and his partner Sergio of Los Angeles, Mark Hill, his wife, Evi and their daughter, Sienna of Riverton; daughter, Cheryl Hill Hunt, her husband, Marvin and their daughters, Chelsea, Jessica and Emma of Greybull, WY; sister, Phyllis Glanz, her husband, Bill Glanz of Worland, niece, Karrie Stone and great niece, Kaitlin Stone of St Augustine, FL; step-daughter, Kimberly Parks, her husband, Jason and their children, Trenton and Kaley of Billings; step-son, Eric Brown, his wife, Laura of Azebaijan; step-son, Kenneth T. Brown of Casper; cousins, Melvin Fausset and family of Riverton, Bob Fausset of Ten Sleep, and Don Fausset of Worland.

Mrs. Brown was preceded in death by her parents and grandson, Wyatt William Fausset Hunt.

On-line obituaries are available and condolences for the family may be made at: theDavisFuneralHome.com

Services are under the direction of the Davis Funeral Home.