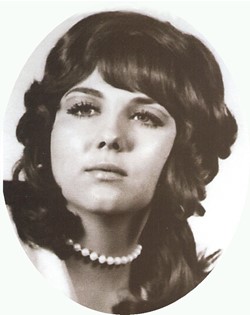 Julie Ann Olson
Nov 11, 1953 - Sep 6, 2013
Julie Ann Olson, 59, died September 6, 2013 at her home from a massive coronary. She was born November 11, 1953 in Pocatello, ID to Lynn C. Olson and June Rose (Williamson) Olson. She has two older brothers.

Julie has lived in Riverton since she was five years old, and attended elementary, high school, and Central Wyoming College. She loved to sing and at one time was a lead vocalist for a band. Julie also wrote poetry, did floral design, and stained glass art. She was an avid animal lover and had many pets.

Julie was married and divorced twice and the last several years was disabled and lived with her father taking care of him until his death.

She was preceded in death by her parents. She is survived by her brothers, Terry L. Olson of Riverton and Ricky L. Olson o Superior, WY.

Per her request she will be cremated and there will be no funeral services. Her cremains will be interred in Afton, WY.

Arrangements are under the direction of the Davis Funeral Home. On-line condolences for the family may be made at www.TheDavisFuneralHome.com.