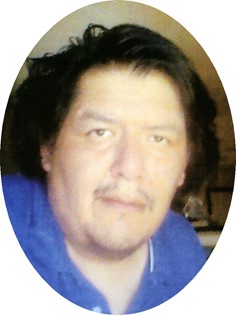 Robert "Bob" Monroe
Apr 1, 1969 - Sep 12, 2013
Robert "Bob" Monroe, 44 of Arapahoe died Thursday, September 12, 2013 at the Wyoming Medical Center in Casper. A rosary will be held on Sunday, September 15 at 7:00 p.m. at the Great Plains Hall. A wake will follow at the Great Plains Hall. Funeral services will be held on Monday, September 16, 2013 at 10:00 a.m. at the Great Plains Hall with Father Phil Wagner officiating. Burial will follow at the Arapaho Catholic Cemetery.

Robert Lawrence Monroe was born on April 1, 1969 in Riverton, WY to Robert E. Monroe, Jr. and Marcella A. (Dodge) Monroe. He lived his entire life in Arapahoe on the Wind River Reservation. He graduated from Riverton High School and earned his A.S. in Computer Technology from Central Wyoming College.

He was a member of St. Stephen's Catholic Church.

He worked as a freelance computer tech. He served as the Chairman of the Arapaho Housing Board.

His family said that he enjoyed computer technology and watching movies. He loved to hang out with friends and family.

He is survived by his sons, Dean Niedo and Dolan Niedo; his brothers, Clinton (DeanNa) Monroe and Michael Monroe; and his sister, Donna Antelope; and numerous aunts, uncles, cousins, nieces, nephews and grandchildren.

He was preceded in death by his parents, Robert and Marcella Monroe; and his cousin, John WhiteFeather.

Funeral Arrangements are under the direction of the Davis Funeral Home. On-line condolences for the family may be made at www.TheDavisFuneralHome.com.