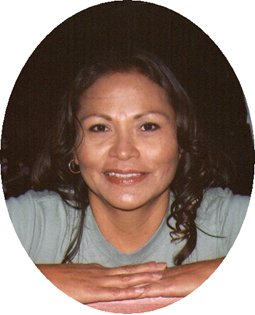 Theresa Moss
Nov 8, 1966 - Oct 21, 2013
Funeral services for Theresa Edna Moss, 46, will be held 10:00 a.m., Saturday, October 26, 2013 at Great Plains Hall. Interment will follow at the Arapaho Catholic Cemetery, St. Stephens, Wyoming. A wake will be held at the Moss family home, 30 Scarface, St. Stephens, Friday, October 25, 2013, 5:00 p.m.

Theresa died October 21, 2013 at the Wyoming Medical Center in Casper, WY.

She was born November 8, 1966 in Lander, Wyoming, daughter of Leonard Joseph Moss, Jr. and Elena Jean Gould.

She attended schools at St. Stephens, Flandreau Indian School in South Dakota, Central Wyoming College and Idaho State University in Pocatello, Idaho.

She worked as a CNA at the Wyoming State Training School and Wind River Health Care Center. She also was a basketball coach at St. Stephens School and a ShoRap Firefighter.

Theresa participated in all the Arapaho ceremonies. She also helped cook for the numerous pow wow committees and was an Eagle Woman.

She loved beading, playing basketball, running, riding horses and barrel racing, family events, watching her grandkids, nieces and nephews in their sporting events. She also loved Jesus and enjoyed crocheting, cooking, and was the best bread maker.

Survivors include her father Leonard Moss; adopted mother, Buckie Richardson-Burnette; sons, Gregory James Oldman (Jessica Eagle), Clarence Daniel Oldman, K'lyne Kain Guina; God-son, Melvin Villa; daughters, Little Raven Oldman (Ira Jenkins), Robin Theresa Oldman-Teran (Tyrel), Shae-Lynn Dawn Oldman,; God-daughter, LeAnn Brown; grandparents, Joseph and Lillian Chavez, Jr.; adopted grandmother, Marion Coen; grandchildren, Seona Enos, Charles Rob Oldman, Josette Rose Oldman, Messiah Dresser, Amanda Lelah Jenkins, Halle Erika Robinson, Elianna Duran, Dredyn Duran, Chopi Iron Cloud, Kencin Brown, Tanner Shakespear, Zyrin Washington, Jayde Harrington, T.J. Steven Harrington, Kiara Coen, Britt McNair, Kaeler Blackburn, Paisley Blackburn, Ezekiah Brown, Shawn Jay Monroe, Jordan Timbana, Daylon Timbana, and Kailynn Timbana; sisters, JoAnn Moss, Ann (Delmont) Shakespeare, Salome (Ricky) Blackburn, Francine (Crocky) LoneBear, Orlena Killsontop, Zola Killsontop, Julene Todd, Nadine Bixby, Vonda Wells, Vernissa Jorgenson, Krista Whitewolf, Duelynn Whitewolf, Marie Ann (Ben III) Snyder, Rochell Moss (Lindy) Freeman; brothers, Jesse Moss, Shawn Moss, Skeeter Moss, Joseph Moss, Preston Moss, Ryan Gambler, Sr., Kealear C. Harrington, Willard Wells, George T. Wells, Jr., Woodrow J. Wells, Bryson Whitewolf, Algene Gould, Carlton Gould, Leonard J. Moss, III, Richard Christian, Jr., uncles and aunts, George and Eunice Moss, Willard Gould, Wayne Arthur, Sr., George Wells, Sr., Bob Coen, Theresa M. Wells, Emogene Wells, Haroldine Whitewolf, Marion Scott, Joann Arthur, and Adal Croshaw; nieces, Sonay Brown, LeAnn Brown, Lacey Brown, Lexus Brown, Larae Brown, Nikki Shakespeare, Jamay Blackburn, Marie LoneBear, Leah LoneBear, LaTonya Killsontop, Krissa Killsontop,Tessa Killsontop, Tressa Jorgenson, Makena Armajo, Daeshawn Ute, and Jacinta Edmo; J.W. Brown, Chief LoneBear, David LoneBear, Jr., Gerald Gambler, BryLee Shakespeare, Ricky Blackburn, Jr., Delmont Shakespeare, Jr., Troy Timbana, Steven Monroe, Rick Edmoe, Jr., Buster Gambler, Kesley Gambler, Brandon Whitewolf, Kendrick Killsontop, Kenneth Ute, Keith Armajo, Richard Christian, III, Richard Brown, Leslie Todd, Cameron Todd, Lamont Brown, Rock Bixby, and Sam Bixby.

She was preceded in death her mother, Elena Jean Gould Moss; grandparents, Clarence and Edna Moss, Theresa Whitewolf; brothers, Tater Moss, Jerome Gambler, Jr., Leslie Gould, III; sisters, Yvonne Moss, Marlissa Jorgenson, and Isabella Wells,; Aunt Marie Ann Moss, Pearl Brown, Ruth M. Arthur, Pearl Brown; uncle, Leslie Gould, Jr., Steven Arthur, Lamont Arthur; Margaret Moss Salazar, Gery Killsontop, Verle Killsontop, Pierre Killsontop, Royce Killsontop, and Jedediah Brown.

Services are under the direction of the Davis Funeral Home.

On-line condolences for the family may be made at www.TheDavisFuneralHome.com.