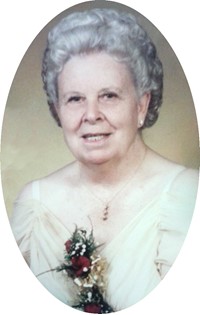 Lorraine Piggott
Jul 6, 1918 - Dec 4, 2013
Lorraine Piggott, formerly of Riverton, died Wednesday, December 4, 2013 at St. Anthony North Hospital in Westminster, CO. She was 95 years old.

Funeral services will be held at 10:00 a.m. Thursday, December 12, 2 013 at St. James Episcopal Church in Riverton, with interment to follow at Mountain View Cemetery. A viewing will be held at Davis Funeral Home on Wednesday, December 11, 2013 from 6:00 pm to 7 pm.

Elsie Lorraine Hogue was born in Riverton on July 6, 1918, to Burley M. Hogue and Nora Ellen (Herring) Hogue. Dr. Tonkin was the attending physician at her birth.

Mrs. Piggott grew up in Riverton, and was graduated from Riverton High School with the Class of 1937.

On October 27, 1940, she married William A. Piggott at St. James Episcopal Church.

The family moved to Northglenn, CO in September of 1963.

During her lifetime, Mrs. Piggott was a theater usher, worked at Wigwam Bakery, Top Notch Cafe, was a church custodian, and was active in the church and volunteered with the hospital guild. In Riverton, she taught Red Cross, was a member of the Busy Matrons Extension Club. In Northglenn she was also active in her church, TOPS, and 4-H, where Mr. and Mrs. Piggott won the Friends of 4-H award.

Lorraine loved Bronco games, and fishing and camping with her family in Jackson and Yellowstone. After her husband retired, the two of them loved going to Steamboat Springs, CO for peace time. She enjoyed family time all together such as birthdays and holidays. She was a servant to the Lord and many people, always delighting in helping others.

Lorraine is survived by two daughters, Phemie Marie Backer and Katrina Cherie Whitenight of Northglenn; two granddaughters, Misty Melanie Houp of Brighton, CO, and Phemie Cherie Whitenight of Thornton, CO; three great granddaughters, Autumn LeeAnn Rhine and Emily Marie Houp of Brighton and Delilah Amelia Baca of Federal Heights; great grandson Brenden Baca of Federal Heights. Other relatives include Ellen and Robert Moore of Shoshoni, WY; Harold and Marian Eggers of Pavillion; Dave and Sharon Knapp of Riverton, and Robert Kirk McNeil of London, England.

She was preceded in death by her husband Bill on May 14, 2006; her father Burley Hogue on August 26, 1966; her mother Nora Hogue on August 16, 1975; a half-sister Hazel Eggers in 1949; and a half-brother Herb Fleming.

The family requests donations may be given to Phemie Backer for distribution to North Metro Fire Station 63.