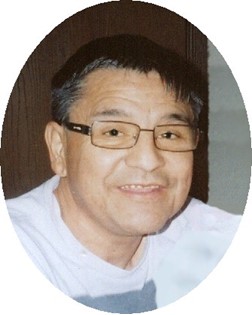 Bruce R. Means
Sep 30, 1959 - Dec 8, 2013
Bruce R. Means, 54, of Ft. Washakie, WY died at the Wyoming Medical Center in Casper, WY on Sunday, December 8, 2013. A rosary will be held on Thursday, December 12, 2013 at 7:00 pm at Great Plains Hall, the wake will follow. A funeral mass will be held on Friday, December 13, 2013 at 10:00 am at Great Plains Hall with Father Phil Wagner officiating. Burial will follow at the Arapaho Catholic Cemetery at St. Stephens.

Bruce Ronald Means was born on September 30, 1959 in Riverton, WY to Bruce Robert and Bernedine (Bell) Means. He spent the majority of his life around Arapahoe, with some time in Laramie, Ethete, and Pine Ridge, SD.

He was baptized into the Catholic faith and attended church at St. Stephen's Catholic Mission.

His family said he attended the Sundance and PowWows.

He was a welder by trade but also had worked as a construction worker, truck driver and a Housing Counselor for the Northern Arapaho Tribe.

They said he loved iron working, wood working, sewing, crafts, and projects of all kinds. His biggest joy was watching the local basketball teams and the following players, Tyson, Jesse, Roger, John, Ranell, Marcell, Lakota, Cole Louie, Lexi, and Gay Wild.

He is survived by his aunt, Patricia Dodge; his uncle, Bill Means; his daughters, Valerie Means and Husband Craig Oldman, Malia Means, Anny Whiteplume, and Mariah Brannon; his sons, Michael Eagle, Jeremy Means, Randy Means an wife Sheila Moss, Kelly Means, Amiel Quiver, Miles Armajo, and Benjamin Means; his sisters, Anna Means, Mary Means, and Carol Brown; his brothers, Norbert Bell, Eugene Bell, Leroy Means, John Means, Clowry Means, William Means, Henry Means, and Larry Makeshine (God Brother); his adopted brothers, Jay Brown, Darrell O'Neal, Bobbie Roman, Tony Roman, Rueben Roman, Bo brown, Bob Miller, Charlie Howell, Frances Washington, Alan Behan, Don Gambler, Jim Shakespeare, Freeman Blackburn, Jake Bell, Al Bell, Lawrence Bell, Lionel Bell, Frank (Pope) Means, Walter Means, Tatanka Means, Richard Christian Jr., Stevie Oldman Sr., Darwin Perea, Tony Bell, Robert Hungary, Robert Kiatie, Ivan Posey, Jerome Goggles, Nathan Bell, Aaron Friday, Billy Goggles, Brian Trosper, Duane Bell, Sr., Leonard Moss, Jr., Pat White, Gary Medicine Cloud, Jude ChargingCrow, Robert Aragon, Roger Bell, Mathew "Smoke" Bell, and Martin Bell; his adopted sisters, Francine Bell, Veronica Lawson, Cindy Dodge, Tina Bell, Anna Rita, Florita Soldierwolf, Harriet Trosper, Deloris Takes Enemy, and Agnes Doyle; his adopted kids, Suzie Means, Cami Means, Daniel Bell, Darrell Bell, Dave Bell, Duane Bell, Mary Bell, Pete Aragon, B.J. Bell, Leigh Ann Brown, Lacey Brown, Larae Brown, Jay Brown, Lexi Brown, Katelyn Brown, Tevin Brown, Morning Rae Ferris, Zoe Friday, Donald Makeshine, Brandon Makeshine, Rose Bell, Lynette Bell, Lawrencetta Bell, Lindsey Bell, Lauren Bell, Amy Lawson, Tova Miller, Krystal Miller, Ginger Bell, Isaac Bell, Agnes Bell, Kathy Dodge, Curtis Oldman, Louis Oldman, Shielyn Perea, Ben C'Bearing, Brian C'Bearing, Brent C'Bearing, Bernadette C'Bearing, Veronica Twomoons, Chris Twomoons, Halle Twomoons, and John Twomoons; his ex-wife, Millie Friday; his grandkids, Merle Oldman, Anica Eagle, Emma BigLake, Troy Fasthorse, Koltyn Groesbeck, Evelette Tillman, Rayliana Means, Yesselyn Rodriguez, Brandon Bell, Tyson Lonebear, Kole Lonebear, Terrance Bell, Marissa Bell, Jesse Brown, Gregory Armajo, Blake Armajo, Jami Webster, Jonathan Spoonhunter, Jamison Spoonhunter, Jonae Spoonhunter, Tracycen Christian, Amani Moss, Ezekiah Brown, Emiee Kauality, Chasity Kauslity, Taci Ironcloud, Amani Ironcloud, Chloe Ironcloud, Bert Twomoons, Brandon Bell, Stephanie Bell, Sharae Bell, Matyah Eagle, Darnel Monroe, Antone Monroe, Helen Monroe, Gerald Monroe, Branden Monroe, and Irene Whitebull-Monroe. His special friends from Morning Star Manor, Alberta Burnett, Jeri Addison, Carol Costa, Dave Freland, Caroline Goggles, Ernie McGill, Florence Redman and the whole staff.

He was preceded in death by son, Brandon Eagle, daughter, LaToya Means, parents, Bruce Means and Bernedine Means, grandparents, John Means and Myrtle Means, grandparents, Issac and Agnes (Posey)Bell, brother, Bert Means, sister, Rhonda Mills, sister Parmella Means, uncles, Russell Means, Ted Means, Vincent Bell, Ted Bell, Tony Bell, Eddie Bell, aunts, Mary Agnes Bell, Mable Bell, Annie Brown, brother Doyle Bell, brother, Jim Bell, brother Vincent Washington, brother, Charlie Washington, sister, Alberta Bell, brothers, Ben Soundingsides, Edward Soundingsides, Robert (Reno) Willow, Darwin Gambler, Sr., Corky Shakespeare, Medford Shakespeare, Buddy Miller, Lawrence Oldman Jr., Theodore Bell, Peter Bell, Thomas Bell, Pius Bell, grandson, Jedidiah Brown, and other family, Pat Arthur, Frankie Hanway, Dean Moss, Mark Coando, and Mike Bell.

On-line condolences for the family may be made at www.TheDavisFuneralHome.com.

Services are under the direction of Davis Funeral Home.