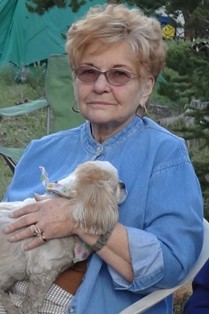 Marjorie Joanne Nichols
Jan 22, 1932 - Dec 13, 2013
Marjorie Joanne Nichols, 81, of Riverton passed away at her son's home in Basin, Wyoming after a short illness of Leukemia.

Per Marjorie's request she will be cremated with no services to be held. Family services will be held at a later date.

Marjorie was born at home in Tilton, Illinois on January 25, 1932 to George W. and Catherine R Pate.

She was in the first graduating class through Schlarman High School in Danville, Illinois in 1949.

She married Charles Bruce Nichols February 7th, 1953 in Danville, Illinois.

She and her husband ran the Triangle C Ranch in Dubois WY until 1966. They moved to Laramie where she worked at the University of Wyoming food service while her husband pursued a degree in accounting. They then moved to Cody where she worked as a florist. The family then moved to Riverton where she worked in her husband's accounting office, The Place, New York Life, and long time employee at Fremont County Alcohol Crisis Center.

She is survived by three sons, Robin B. (Kathleen) Basin, Wyoming, Jeffery C. Riverton, WY, and David C. (Renay) Nichols Riverton, Wyoming, four sisters, Patty Holman of Casper, WY, Bobbie Ward of Danville, Illinois, Kathy Newman of Riverton WY, Mary Jo Pogliano of Denver and sister-in-law Shirley Pate of Yuma, Arizona, several grandchildren and great grand children and nieces and nephews.

She was preceded in death by her husband, her parents and brother, Larry M. Pate.

Arrangements are under the direction of the Davis Funeral Home.

On-line condolences may be left at theDavisFuneralHome.com.