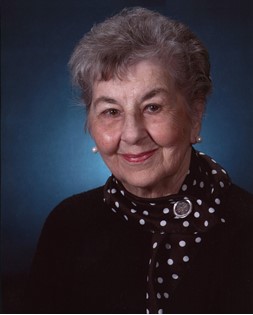 Lucia Paula Hampton
Dec 16, 2013 - Dec 16, 2013
Lucia Paula Hampton, of Lander, died Sunday, Dec. 15, 2013 at Westward Heights Care Center. She was 95 years old.

Per her request, cremation has taken place. A memorial service will be held Saturday, Jan. 4, 2014, at 3 P.M. at Mountain Vista Retirement Residence in Lander.

Lucia Paula Hampton was born January 23, 1918, in Peoria, Illinois, the daughter of William and Marie Rauch. She was the second eldest of five sisters.

In high school she played the piano and was director of the school orchestra, which performed for school occasions and community organizations. She also performed voice solos for the local radio station every Sunday morning, and once sang for Chicago radio stations with Arthur Fiedler, later the conductor of the Boston Pops Orchestra, playing accompaniment on piano.

After high school she attended Brown's Business College for two years, working after school at a cafeteria where she met her husband, Keith Hampton, a graduate of the University of Illinois and a sales manager of Kroger Grocery and Baking Company. They married on Jan. 27, 1940. As he gained promotions, they traveled throughout the Midwest and east coast.

During the war years, her husband served in the Pacific with the U.S. Marine Corp while Lucia worked for the Marine law offices in Quantico, Virginia.

After the war, they settled in Quincy, Florida, where Lucia was secretary to the principal of the high school for many years. Until her death, she continued to advise and correspond with many school students.

Her husband passed away in 1989. She then moved to San Angelo, Texas, to be near a sister. She lived there eleven years and then moved to Lander to be near her son.

During her lifetime she was an avid gardener and belonged to several garden clubs, in which she rose to the position of president. She grew prized roses and entered several flower shows, winning a number of blue ribbons. She was a member of the Hospital Auxiliary during World War II. She worked with the literacy program and tutored children. She joined the Newtimers Club in Texas and became president.

She was a member of her church wherever she lived, taught Sunday School, sang in the choir for twenty-five years, and belonged to many church circles.

In Lander she belonged to First United Methodist Church and was a member of Ruth Circle, and for several years volunteered in the Methodist Thrift Shop.

She enjoyed football and basketball and kept up with the rankings of college teams. She played bridge every week at the Senior Center and worked in the library at Mountain Vista.

Her mother, father, husband and sisters preceded her in death.

She is survived by her son, Bruce and his wife, Molly; grandchildren Sara and Kaili, many nieces and nephews.

Memorial contributions may be made to the Lander Senior Center, the Food Bank, or the donor's choice, in care of Davis Funeral Home, 2203 West Main Street, Riverton, WY 82501.

Arrangements are under the direction of the Davis Funeral Home.