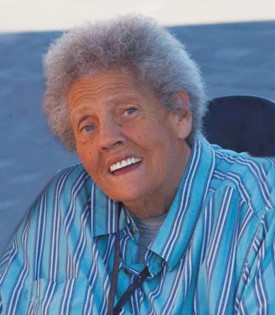 Judy (Martin) Hartman
Jul 8, 1943 - Jan 10, 2014
A memorial service for Judy (Martin) Hartman, 70, will be conducted Thursday, January 16th at 1:30 p.m. at St. Patrick's Catholic Church, Casper, WY.

Judy died Friday, January 10, 2014, at the Hope for Health Hospice home in Riverton, Wyoming surrounded by her family, after a brave battle with cancer. She was born July 8, 1943 in Sandusky, Ohio.

As a child, she moved to Casper with her family, where she was raised and educated.

Judy enjoyed many things in life including playing bingo, making candy, sharing current events with anyone who would listen, hanging out at the casino and making friends all over town in her daily outings. Although Judy did not have much, she enjoyed sharing what little she did have with others. She was also known for her quick wit and sense of humor.

She was preceded in death by her parents, Evelyn (Skau) Martin and George Martin; a brother, Larry; a brother, Bob; and a nephew, Jeff Stafford.

Survivors include her three daughters: Tammy Ito of Casper, Kathy LeMay of North Carolina, and Shelly Ivie of Thermopolis; a sister, Marilyn Stafford of Evansville; 8 grandchildren, Jennifer, Tom, Curtis, Katie, Kendra, David, Matt and Sam; and 3 great grandchildren, Thomas, Bradley and Logan.

In lieu of flowers, donations can be made to the Hope for Health Hospice Home in Riverton.