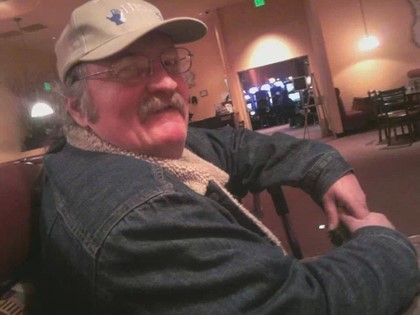 Kevin E. Pasley, Sr.
Jan 16, 2014 - Jan 16, 2014
Kevin E. Paslay, Sr. 53 of Roundup, MT died on Saturday, January 11, 2014. A viewing is scheduled for Monday, January 20, 2014 at Davis Funeral Home from 5:00 pm to 7:00 pm. A funeral services will be held at 2:00 p.m., Tuesday, January 21, 2014 at Davis Funeral Home. Burial will follow at Mountain View Cemetery.

There will be a carry in dinner, "Birthday Celebration" at the Riverton Eagles F.O.E. #3036 in Riverton after the service, it will start at 4:00pm and go until 7:30 pm. All family and friends are invited .

Kevin Eugene Paslay, Sr. was born on January 21, 1960 in Roundup, MT to Perry Eugene and Edith Faye (Goodwin) Paslay. He graduated from high school in Roundup, Mt as the Honorary Valedictorian. In his early 20's he moved to Riverton. He then received his CDL from the JETS Truck Driving School.

He worked for numerous oilfield companies, mainly in Wyoming, over the last 30 years. A tragic oilfield accident left him disabled and he was no longer able to work.

He was baptized into the Methodist Faith.

His family said that he was proud of his country and to be an all American Boy, and being an oilfield "Roughneck". He enjoyed playing the guitar and harmonica, writing poetry and music lyrics, working on his vehicles, collecting cars and trucks. He loved visiting and being around his family, friends, his oilfield friends, and getting people to laugh. His family said he had a kind heart and was always a giving person. There was a special bond between Kevin and his daughter, Sara, they loved each other deeply. He loved all of his children and was loved by them.

He is survived by his son, Kevin (Purvi) Paslay, Jr. of California; his daughters, Sara Marie Witt of Riverton WY, Alisha Autumn (Tom) Cartwright of San Diego, CA, and Mistie Johnson of Buffalo WY; his three grandchildren, Olivia Grace Cartwright, Bradley Thomas Cartwright, and Alexandra Marie Cartwright; his brothers, Michael Perry Paslay of Roundup, MT, Terry Mitchell Knight of Denver, CO, and Ricky Ray (Janet) Hess of Minnesota; his sisters, Karen Paslay Britt of Riverton, WY and Shannon Irene Goheen of Macon, GA; his nieces, Michaela Paslay, Sharanda Farson, Amber Harris and Caitlin Goheen; and his nephews, J.J. Harris, Howie Harris, Koedy Paslay, and Michael P. Paslay, Jr. He is also survived by his longtime buddy, his dog "Snoopy".

He was preceded in death by his parents, Perry and Edith Paslay; his brother, Jerry Michael Knight; and his sister, Mary Fay Norris.

On-line condolences for the family may be made at www.TheDavisFuneralHome.com.

Services are under the direction of Davis Funeral Home.