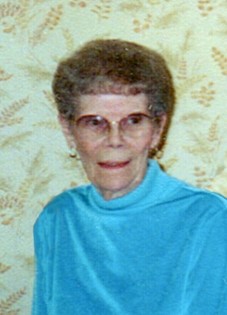 Ruth M. House
Aug 29, 1924 - Jan 26, 2014
Ruth M. House, 89 of Riverton, died at Wind River Kindred Nursing and Rehabilitation Center. As were her wishes, cremation has taken place and no services are planned.

Ruth Maxine Thompson was born on August 29, 1924 in Unionville, MO to James Q. and Amy (Scott) Thompson. When she was young the family moved to Midwest, WY. She attended schools there and graduated from Midwest High School.

In February of 1942 she married Tom Barkley House in Casper, WY. Together they raised three children.

While raising her children, she was a stay at home mother. After they were older, she worked for Ben Franklins and The Place.

She was a member of the United Methodist Church of Riverton. She was also a member of the B.P.O.E. Elks Doe.

Her family said that she loved knitting and crafts of all kinds. She was always making something.

She is survived by her husband, Tom Barkley House of Riverton; her son, Tommy L. House of Riverton; her daughters, Ruth Diane Raymond of Pavillion and Patty Jean Curtin of Thermopolis; five grandchildren and four great grandchildren.

She was preceded in death by her parents, James and Amy Thompson; her sister, Jean Snow; and her brothers, Floyd Thompson, Eddie Thompson, and Reid Thompson.

Arrangements are under the direction of the Davis Funeral Home.