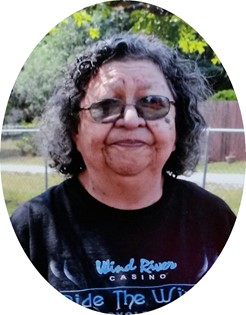 Ursula Sankey
Dec 16, 1937 - Jan 31, 2014
Funeral services for Ursula W. Sankey, 76, will be held 10:00 a.m., Thursday, February 6, 2014 at Blue Sky Hall. Interment will follow at Wallowing Bull Cemetery. A Prayer Service will be held 7:00 p.m., Wednesday, February 5th at Blue Sky Hall.

Mrs. Sankey died January 31, 2014 at the Lander Regional Hospital.

She was born December 16, 1937, in Ethete, WY daughter of Winfield and Victoria (Sitting Eagle) Wallowingbull. She attended St. Stephens Boarding School until the 8th grade.

September of 1962, Ursula married Floyd Sankey in Oklahoma. She spent her early years in Oklahoma with her late husband. After his passing in 1985, she moved back to Wyoming where she spent the rest of her days.

She worked as a CHR in Oklahoma for 4 years. She was a dedicated Broncos fan. She enjoyed being with her grandchildren and great grandchildren and family get-togethers such as cookouts and various other activities. Ursula was a member of the Episcopal Church.

Survivors include her children, Garen K. Sankey, Sr., Bryan M. Sankey and Ford K. Sankey; her adopted son, Ira Sankey; ex-daughter-in-law, Nora Sankey; grandchildren, Stephanie and her husband, Jarred C'Hair and their children Bradly, Kylee, Keira and Kenadie, Gina and her husband, Chris Chavis and their children, Amelia and Caledon, Sigourney Sankey, Garen K. Sankey, II, Stacie and her husband, Thomas Gardner and their child, Naliegh, Keiyonna and her husband, Myron Perry and their child, Darion, Bethany Sankey, Clayton Sankey, Thomas Ann Sankey, Alexander Sankey, Ford K. Sankey, Jr., Johanna Sankey and Scarlett Sankey; sisters, Irma M. Groesbeck, Joyce Hutchison, Joetta Brown, Ardith Addison, Merle Haas and Shirley Enos.

She was preceded in death by her husband, Floyd Sankey; parents; brothers, Daniel Wallowing Bull, Victor Wallowing Bull, Clayton Wallowing Bull, Joe Wallowing Bull, and Lloyd Ray Wallowing Bull; adopted mom, Frances C'Hair, Marilyn Goggles, Zona Moss, Ardeline Spotted Elk, Gladys Moss, Alice Molash, Lucelle Redley, and Rosie Moss.

Services are under the direction of Davis Funeral Home.

Online condolences may be left at www.thedavisfuneralhome.com.