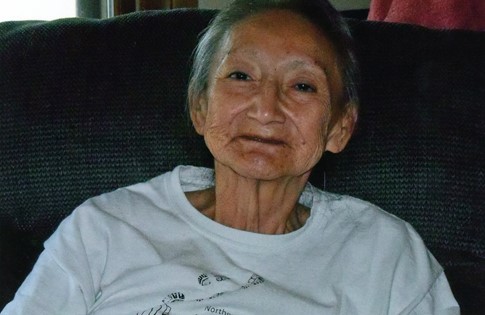 Irene Ella Harris
Feb 12, 2014 - Feb 12, 2014
Funeral services for Irene Ella Harris, 71, will be held 10:00 a.m., Saturday, February 15, 2014 at St. Stephens Catholic Church with Father Phillip Wagner officiating. Interment will follow at Yellow Calf Cemetery. A Rosary will be recited 7:00 p.m., Friday, Feb 14th at St. Stephens Catholic Church with a wake to follow at the family home, Number 6 Gas Hills Road.

She died February 8, 2014 at her home in Riverton.

Irene was born July 15, 1942, in Fort Washakie, WY, daughter of Nelson Wolfchief, Sr., and Martha Viola C'Bearing.

On November 25, 1960, she married Marvin James Harris at St. Stephens Catholic Church.

She enjoyed spending time with her family, watching her grandchildren in their sporting activities, and watching movies. She also loved to watch the Wyoming Indian High School Chiefs, Pow-wows, traveling and was an Elvis fan.

Irene worked as a custodian for the Hot Springs Pool and for the Wyoming Indians Schools and worked as a caretaker.

She lived at the Arapahoe Ranch for 14 years, Mill Creek and in Riverton.

Irene was active in the Catholic Church receiving communion each week.

Survivors include her sons, Thomas Brown, Sr., Ervin Brown, Jr., Kevin Brown, Martin Gutierrez, Leland Black, and Junior Black; daughters, Donna Antelope and Franklin Antelope, Lori Harris, Viola Harris, Brenda Brown, Chandria Trippo and Mary Brown, Vanessa Posey, Anita Harlan, Patricia and Clinton Burnett, Kathleen and rick Brannon, Tena Beydler and Verdonna Valdez; brothers, John Paul Brown (a.k.a. Elvis Presley), Nelson Wolfchief, Jr., Sam Dresser and adopted brother, Phil Stevens; sisters, Pauline Oldman, Theresa Jones, Rachel Brown, June Brown, Gloria C'Bearing, Chippa Goggles, Kissie Quiver, Evangaline C'Hair, Leta Wolfchief, Pam Wolfchief and Sylvia Dewey, and Zette Underwood; grandchildren, Natasha, Neecey, Neomi, Tony, William, Ashton, Franklin, Charles, Redskye, Summer, Ethan, Janae, and Weston Shakespeare; great grandchildren, Shalayna Harris, Tanayah, Natayah, and Celene Burnett, William Harris, III, Shantel Ella Rose Joy Duran; God-children, Kerry Underwood, Amber Brown, and Rhonda Harris-LeClair.

She was preceded in death by her husband, Marvin James Harris, son, William Anthony Harris, Sr., daughter, Karen Lynn Harris, parents, sisters, Arlene Goggles, Rosemary Brown, Ida Brown, Henrietta C'Bearing, Emma Armour, Karen Noon, Laverne Brown; brothers, Donald Wallowingbull, Pat C'Bearing, Albert Paul Dresser, Wilbur Brown; niece, Mary Harlan; great grandchildren, Taelynn and Kyle C'Hair and Shaylynn Antelope; and her son-in-law, Medford Shakespeare.

On-line condolences for the family may be made at theDavisFuneralHome.com. Services are under the direction of the Davis Funeral Home.