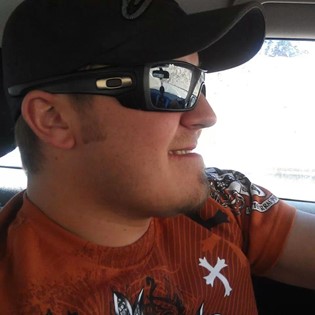 Curtis E. Schwartzkopf
Jul 2, 1989 - Feb 21, 2014
Curtis Schwartzkopf, 24 of Riverton, died at his home on Friday, February 21, 2014. Services will be held at a later date..

Curtis Edward Schwartzkopf was born on July 2, 1989 in Rawlins, WY. He was the son of Jeffrey and Karen Schwartzkopf. He lived in Saratoga until the family moved to Riverton in 1999. He attended and graduated from Riverton High School.

After high school, he went to work in the oil field and worked for Key and Fluid Pro until his health no longer allowed him to do so. His family said he was also "Jack of all trades and master of none".

His family said that he loved the outdoors, fishing, hunting, trucks, helping his family at the Fremont County Fair with concessions, spending time with his dart friends and playing pool. It was a well-known fact that he loved the Wyoming Cowboys and that he had Brown and Gold memorabilia all over his "man cave". He was quoted in an article in County 10 about his love of Wyoming as saying " Anything that has a bucking horse on it, I've got it". He fulfilled a life long dream by going to a Wyoming Cowboy game this last fall where he was treated as a VIP and the best part was Wyoming won and he saw his name up on the scoreboard. Above all of this he loved his family and spending time with them.

He is survived by his daughter, Kamerie Jo Clark; his parents, Jeff and Karen Schwartzkopf; his brothers, Timothy Schwartzkopf, Jeffrey N. Schwartzkopf, and Tony Romero; his sisters, Kimberly Schwartzkopf, Jennifer Schwartzkopf and Carrie (Corey) Buescher; his grandparents, Angie Schwartzkopf and Albert Cabrera; and numerous nieces and nephews.

He was preceded in death by his grandfather, William Schwartzkopf; his grandmother, Esther Cabera; his grandfather, Grandpa Saylor; and his cousin, Scott Szperda.

Memorials may be made to the Curtis Schwartzkopf Memorial Fund at Wells Fargo Bank, 616 North Federal Blvd., Riverton, WY 82501.

On-line condolences for the family may be made at www.TheDavisFuneralHome.com.

Arrangements are under the direction of the Davis Funeral Home.