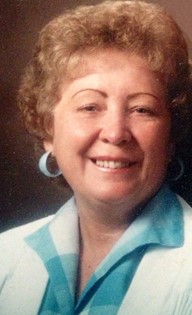 Marla Thuringer
Nov 19, 1940 - Mar 10, 2014
Marla Thuringer, 73 of Riverton died peacefully on March 10, 2014 after a brief stay at Kindred Nursing and Rehabilitation-Wind River. A funeral service is scheduled for Friday, March 14, 2014 at 10:00 at Davis Funeral Home. Pastor Scott Jorgenson will be officiating. Burial will follow at Mountain View Cemetery.

Marla D. Hedglin was born November 19, 1940 in San Diego, CA to Bert and Beula (Coker) Hedlgin. As a child, she moved around the state of Wyoming with her family, as her father was a construction worker. She loved her home state of Wyoming.

Marla met her soul mate and love of her life, Jim Thuringer in Cheyenne, WY. They married on April 10, 1961 in Cheyenne, WY. They were proud parents of five children, Tammy, Steve, Crystal, Tasha and Kim.

Her family said she was a loving wife, mother, and grandmother who was also a beautiful seamstress, an avid reader, active gardener and above all else loved and devoted herself to her family.

She is survived by her loving husband of 52 years, Jim Thuringer; her daughters, Tammy (Paul) Jensen of Evanston, WY, Crystal (Dale Bryan) Tintinger of Sprearfish, SD, Tasha (Jerry ) Roberts of Mifflinburg, PA, and Kim (Dave) Toews of Billings, MT; her son, Steve Thuringer of Carlin, NV; her brother, Gerald Hedglin of Douglas, WY; her 12 grandchildren, Brandi Waheed, Kyle, Derrick, and JD Thuringer, Ryan and Kristi Hensley, Dan and Nick, Tintinger, Emily Bryan, Marlee and Romi Roberts, and Zachary Toews; two great grandchildren and numerous nieces and nephews.

She was preceded in death by her parents, one sister, two brothers, and one grandson.

On-line condolences for the family may be made at www.TheDavisFuneralHome.com.

Services are under the direction of Davis Funeral Home.