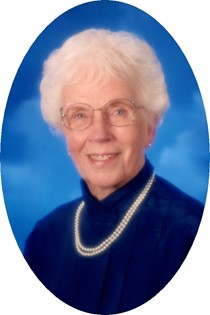 Evelyn Nickeson
Jul 22, 1917 - Mar 24, 2014
Evelyn B. Nickeson 96, of Riverton died on Monday, March 24, 2014, at the Help for Health Hospice Home. A memorial service will be held on Monday, March 31, 2014, at 10:00 am at the Trinity Episcopal Church in Lander, WY. Burial will follow at Mount Hope Cemetery.

Evelyn Belle Goering was born on July 22, 1917 in Slater, WY on the family farm to Henry Madison and Mary Caroline (Hartz) Goering. She was one of four children. She was raised in the Slater area attending a one-room schoolhouse. She graduated with the class of 1934 from Wheatland High School. She then attended Natrona High School to receive her training to acquire her teaching certification.

She taught in rural schools from 1935 to 1938 before her marriage.

On October 16, 1938 she married Burrell Edward Nickeson in Laramie, WY. They had three children, the oldest, Larry, passed away when he was 2 years old, they raised their remaining two children, Steven and Doris, on ranches starting with one near Chugwater, WY from 1938 to 1951. In 1951 they moved to Sinks Canyon near Lander, WY where they ranched until 1957, then moving to St. Michael's Mission in Ethete, WY until 1963. They moved to the Johnstown Valley near Kinnear, WY were they ranched until Burrell's death in 1981. She then moved to Riverton until 2003 when she moved to Mountain Vista Retirement in Lander. In 2010 she moved back to Riverton and lived with her daughter and son-in-law until her passing.

She was a baptized in the Lutheran Church and later was confirmed in the Episcopal Church, attending Our Father's House in Ethete, Holy Nativity in Morton, St. James Episcopal Church in Riverton and Trinity Episcopal Church in Lander. She served on the vestry, was Past Diocesan President of the Episcopal Church Women, and was also a Lay Eucharistic Minister.

She was a substitute teacher at Lander Elementary during the 1950's. When she lived in Ethete, she was the Postmaster. She worked as the Coordinator of Volunteer Services at the Wyoming State Training School from 1964 to 1980.

She was very active in her community. She belonged to the American Legion Auxiliary since 1939, P.E.O. Chapter BB in Lander and P.E.O. Chapter H in Riverton, Friends of the Riverton Library, Borners Garden Club - Extension Club in Lander, was a charter member of the Fremont County Cowbelles (now known as the CattleWomen) since 1952, and helped establish the Fremont County Hospice and was the coordinator from 1984 to 1993.

In her spare time her family said that she enjoyed volunteering, needlework, reading, genealogy, traveling and loved to sing.

She is survived by her son, Steven Kyle Nickeson and his wife Marianthi Constantinu of Los Teques, Venezuela; her daughter, Doris Lynn Zube and her husband Art of Riverton, WY; foster daughter, Bonnie (McBride) Morganstean of Coeur d'Alene, Idaho; her grandchildren, Burrell Nickeson and his wife Young Ha of Anchorage, AK, Zita Nickeson and her husband Darius Nichols of Spokane, WA. Renae McCormack and her husband Tim of Brighton, CO, Diane Trembly of Lander and Mona Trudeau; her 12 great grandchildren and 6 great great grandchildren.

She was preceded in death by her parents, Henry and Mary Goering; her brothers, Floyd and Roland Goering, her sister, Wilma Judd; her son Larry Leroy Nickeson; and her grandson, Ron Zube.

Memorials may be made to Help for Health Hospice or donor's choice in care of Davis Funeral Home, 2203 West Main Street, Riverton, WY 82501.