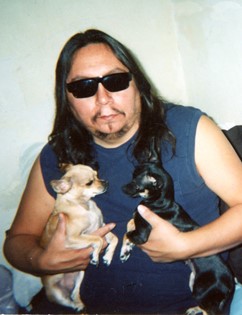 Michael Duran
Apr 21, 1963 - Mar 31, 2014
Michael "Little Mike". Duran, 50, of Arapahoe, died at his home on Monday, March 31, 2014. A rosary and wake will take place on Wednesday, April 2, 2104, at 7:00 pm at 16 C'Hair Lane. A funeral mass will be held on Thursday, April 3, 2014, at 10:00 am at St. Stephen's Catholic Mission. Burial will follow at the Araphao Catholic Cemetery.

Michael Lee Duran was born on April 21, 1963 in Helena, MT to Joyce Marie Duran. He was a life long resident of the Wind River Indian Reservation. He attended school in IL to become a meat cutter "butcher".

He was of the Catholic faith and also was a member of the Native American Church.

He worked at Tribal Elections as security personnel, doing roofing, at was a stocker at Wal-Mart and was a meat cutter at the Wind River Casino.

His family said he enjoyed drawing, listening to music, taking in and raising dogs, being an avid boxing fan, meat cutting, and watching nature shows, Seinfield, Conan the Barbarian, and COPS. He loved being with his family and friends.

He is survived by his son, Wolf Elkins Duran; his daughter, Michaela Marie Duran; his brothers, Eric Underwood, Damon SunRhodes, Gaylen Littleshield, Duran Brothers, Verdale, Newell, Forrest, Alfred, Claudio, Shado, Lamar, Delmer Jr., Shane, and Dominic and their families; Monroe Brothers, Virgil, Leo, Stoney, Wesley, and Chris and their families, Bell Brothers, Paul Jr., Brian, Sheldon, and Alfred and their families, Percy Headley and family, Norman Ybarra, Tomas Ybarra, Jr. and Tracey Wagon and their families; his sister, Diana Rae Underwood and family, Duran Sisters, Erin, Caroline, Chalice, Stephanie, Claudette, and Chasity and their families, Tweet Pingree, Candy LittleThunder, Reva SunRhodes and their families, Monroe Sisters, Theda, Beatrice and Trish and their families, and the Bell Sisters, Sandy, Priscilla and Valerie and their families; his aunts, Judy Duran, Ida Monroe, , Margrite Brown and family, and Nellie Hanway and family; his uncles, Delmer Duran, Sr., Chuck and Kenny Redfield, Claude Duran, Sr., Michael G. Duran, Albert Willow and family, and Joe Duran and family.

He was preceded in death by his mother, Joyce Marie Duran; his brother, Roderick Louis Underwood; his grandparents, Steven Sr. and Ida (Willow) Duran, numerous aunts, uncles, and cousins.

On-line condolences for the family may be made at www.TheDavisFuneralHome.com.

Services are under the direction of Davis Funeral Home.