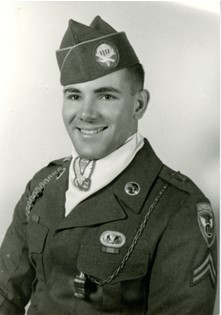 George R. Swan
Apr 3, 1933 - Apr 3, 2014
George R. Swan, 81, of Riverton, died on Thursday, April 3, 2014, at the Help for Health Hospice Home in Riverton. A memorial service will be held at 11:00 am, on Saturday, April 12, 2104, at the Trinity Lutheran Church. Military and Fireman's Last Call rites will take place at the service.

George Raymond Swan was born on April 3, 1933 in La Porte, Indiana, the son of Raymond F. and Caroline Henrietta (Essling) Swan. He grew up in La Porte, graduating from La Porte High School in 1951. He enlisted in the U.S. Army as a paratrooper in 1953, jumping with both the 11th and 82nd Airborne Divisions. After being discharged he entered Valparaiso University where he met Catherine Siler. They were married on July 28, 1958 in Little Rock, Arkansas. George graduated from the Indiana State University with a Bachelors Degree in Education.

He taught in Dowagiac, Michigan and Delphi, Indiana before moving to Dubois, WY in 1967. He taught school in Dubois for 6 years and was a member of the Dubois Volunteer Fire Department. In 1973 he moved to Riverton where he owned and operated West Main Texaco until 1981. He then took the position of Supervisor of the Riverton Division of Fremont County Ambulance Service, a position he held until his retirement in 1995.

George was a member of the Trinity Lutheran Church and served on the Board of Education of Trinity Lutheran School for several years. He also was a member of the Riverton Volunteer Fire Department for 40 years and served as a deputy coroner for Fremont County for many years.

Survivors include his wife of 55 years, Cathie of Riverton; his three sons, Kenneth of Riverton, Brian (Cheryl) of Casper, and Michael (Ritha) of Greeley, CO; his 13 grandchildren; his 12 great grandchildren; his brother-in-law, Raymond Tuck; and several nieces and nephews.

He was preceded in death by his parents, Raymond and Caroline; his sister, Mary Ann; his grandsons, James Kellner and Zachary Clements; and his great grand daughter, Megan Kate Koehn.

Memorials may be made to Trinity Lutheran School Education Assistance Fund or Help for Health Hospice Home, in care of Davis Funeral Home, 2203 West Main Street, Riverton, WY 82501.

On-line condolences for the family may be made at www.TheDavisFuneralHome.com.

Services are under the direction of Davis Funeral Home.