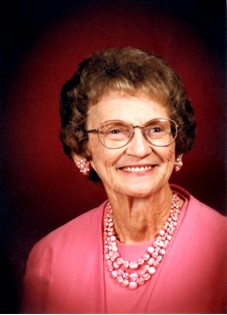 Maxine I. Carpenter
Dec 24, 1923 - Apr 13, 2014
Maxine I. Carpenter, 90, of Riverton, died Sunday, April 13, 2014 at Riverton Memorial Hospital. There will be a viewing held on Monday, April 21, 2014, at Davis Funeral Home from 5:00 pm to 7:00 pm. A funeral service will be held on Tuesday, April 22, 2014 at 10:00 am at Trinity Lutheran Church with burial to follow at Mountain View Cemetery.

Maxine Ilene Geist was born on December 24, 1923 in Gardner, KS to Clifford Charley and Lucretia Mae (Murphy) Geist. When she was four years old her family moved to Orchard, NE for a short time and then to Long Pine, NE where she was raised and went to school. Maxine always said "it was a great place to grow up".

On May 8, 1940 in Ainsworth, NE, she married Elvin Carpenter. They lived twenty-five miles south of Bassett, NE on a ranch for four years before moving back to Long Pine, NE in 1946. On March 4, 1948, they moved to Riverton and they raised their two children, James and Janice.

Maxine was a member of Trinity Lutheran Church. She taught Sunday School, Vacation Bible School and sang in the choir. She was a very active member of L.W.M.L. (Lutheran Woman's Missionary League) and held several officer positions.

Her family said that she enjoyed crafts, crocheting, embroidering, sewing, gardening, planting flowers and the Denver Broncos.

Maxine's faith in God and the love and care she had for her entire family brought her the greatest joy in her life. She especially cherished the times she spent with her grandchildren, great grandchildren and great great grandchildren.

She is survived by her daughter, Janice (Richard) Haun of Riverton; her son James (Diana) Carpenter of Arvada, CO; her grandchildren, Scott (Joyce) Carpenter of Arvada, CO, Kevin (Lisa) Carpenter of Arvada, CO, Joel Carpenter of Arvada, CO, Michael (Dina) Carpenter of Arlington, TX, Denise (Dennis) Lobato from Greeley, CO, Jennifer (Tim) Crandall of Jacksonville, FL, Kent (Shelli) Haun of Riverton, WY, Sheila (Brad) McPherson of Riverton, WY and Cindy (Eric) McDonald of Riverton, WY; her brother-in-laws, Bill (Darlene) Carpenter of Riverton, WY and Bob (Jean) Carpenter of Bothell, WA; her sister-in-law, Lorene Geist of Galt, CA; her 20 great grandchildren; her 9 great great grandchildren; and numerous nieces, nephews, and cousins.

She was preceded in death by her husband, Elvin Carpenter; her father, Clifford Geist; her mother, Lucretia Mae Geist-Brown; her stepfather, Arveen Brown; her brothers, Jerry Geist and Ralph Geist; and her sister, Shirley Wiedeman.

Memorials may be made to Trinity Lutheran Church in care of Davis Funeral Home, 2203 West Main Street, Riverton, WY 82501.

On-line condolences for the family may be made at www.TheDavisFuneralHome.com.

Services are under the direction of Davis Funeral Home.