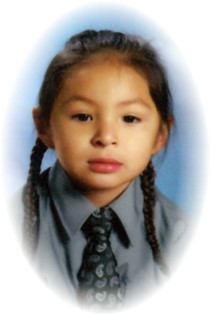 Steven Warren
Nov 6, 2009 - Apr 28, 2014






Steven Travis Warren, 4 of St. Stephens died on April 28, 2014 in Laramie, WY. A rosary will be held on Sunday, May 4, 2014 at 7:00 pm at the Judy Warren residence located at 1300 Quiver Lane. A wake will follow at the Jerome and Sara's residence located at 764 Rendezvous Road #7. A funeral mass will be held on Monday, May 5, 2014, at St. Stephen's Catholic Church with burial at the Arapaho Catholic Cemetery.

Steven Travis Warren was born on November 6, 2009 in Riverton, WY to Jerome Henry and Victoria "Sara" Jean Wilson-Warren. He attended the home base program with Arapahoe Headstart.

His family said that he loved playing basketball, playing with "his guys", small action figures, wrestling with his brothers and cousins, swimming at the beach and lake, and hanging out with his family, especially his siblings and cousins. His favorite figure was Mickey Mouse.

He is survived by his parents, Jerome and Victoria "Sara" Warren; his godparents, Darrell Goodman and Windy C'Hair; his grandparents, Pauline and Calvin Polen, Alan and Angie Warren, Gloria Durgin, Vicky Eagle, Susan Duran, LeAnna Sitting Eagle, Belinda Warren, Kathleen Warren, Judy and Melvin Blackburn, Katherine Jenkins, Lucy Jenkins, Claudia Jenkins, Michele Jenkins, Alvina Blackburn, Caroline Hill, Marie Jenkins, Hubbs Warren, Hank Warren, Bimbo Jenkins, Clarence Jenkins, George Sitting Eagle, Linus Sitting Eagle, Gerald Sitting Eagle, Silas Sitting Eagle, and Raymond Dewey; great grandparents, Geraldine Brown, Anita Portwood, John Warren, and Basil Warren; his brothers, Jeffrey Lock, Jerome "W" Warren, Jamonte Roberts, Johnny Roberts, Edmund Warren, Tristan Whiteplume, Gabriel Warren, Son Ray Warren, Jameis Nipwater, Timmy Two Hearts, Paul Warren III, Raymond Warren, Michael Warren, Dean Friday, Rico Warren, Xavier Martinez, Christobal Martinez, Anthony Martinez, Ransom Harris, Lenny Warren, Andrew Warren, Dylan Blackburn, Tyson Howe, Dale Moss, Larry Jenkins Jr., Terrance Jenkins, Terrell Jenkins, Nikko Jenkins, Adrian Spotted Elk, Monnie Jenkins, JC Coulston, TruLove Coulston, Eugene Coulston, Running Bear Coulston, Eagle Bull Coulston, Big Wolf Coulston, Eagle Eyes Coulston, Deidrey St. Clair, Cole Willow, Lincey Shongutsie Jr., Orreck Friday, Quade Friday, Babe Friday, Julian Lajuenesse, Corbin Bald Eagle, Kyle Blackburn; his sisters, Brindi Lock, Amari Nipwater, Singing Water Warren, Taryn Howe, Chayne Moss, Lahaya Warren, Marissa Warren, Sioux Behan, Shoshone Rose Jorgenson, Tara Jorgenson, Lucilla Coulston, Raven Wilson, Ianna Wilson, Tori St. Clair, Skylynn Lajuenesse, Katherine Baldeagle, Shonette Harris, Katelyn Betts, Quinn Warren, Anessa Warren, Arista Warren, Janelle Warren, Richocett Bald Eagle, Tyre Jenkins, Myra Jenkins, Alycia Jenkins, and Analaya Blackburn; his aunts, Pauline Ineza Polen, Charmayne Warren, Therese Warren, Rosalia Warren, Sonya Warren, Cheyenne Warren, Kateri Warren, Raylene Warren, Cassandra Warren, Vanessa Warren, Toni Coulston, Melanie Friday, Tamara Friday, Ruebena Aguilar, Janie Dewey, Nelida Mendoza, Amanda Jenkins, Tala Spotted Elk, Desea Spotted Elk, Modesta Blackburn, Dani Spotted Elk, Jamie Jenkins, Charlene Brown, Charnelle Jenkins, Lithia Monroe, Adelia Jenkins, and Kelly Jenkins; his uncles, Travis Warren, James SittingEagle, Johnny Roberts, Hubert "KC" Warren, Daniel Warren, Pascal Warren Jr., Sam Wilson, Donald Warren, Paul Warren Jr., Mark C'Hair, Steven SittingEagle, Aloysius SittingEagle, Joshua Headley, Derek Headley, Truman SittingEagle, Jesse Monroe Sr., Clinton Monroe Jr., Terrencio SittingEagle, Lorenzo SittingEagle, Steven (Son) SittingEagle, Lawrence Jenkins, Terrence Jenkins, Jude Jenkins, Charles Brown (MR), Ronny Jenkins, Jude J. Jenkins, Jim Bob Jenkins, Eli BaldEagle, Cody Blackburn, Aloyisious C'Hair, P.J. Revere, Rubuen Revere, and Thomas Revere;and the families of Warren's, SittingEagle's, Brown's, Spoonhunter's, Jenkin's, Revere's and Coulston's and numerous other family members.

He was preceded in death by his grandparents, Thomas Durgin, Vearle Wilson Sr., and Linda and Paul Revere; his great grandparents, Patsy Behan, Anthony SittingEagle, Steven SittingEagle Sr., Hubert and Inez Warren; his uncles Terry Coulston, and Lloyd James Warren; and all other grandparents, aunts, uncle and numerous other family members.

On-line condolences for the family may be made at www.TheDavisFuneralHome.com.

Services are under the direction of Davis Funeral Home.