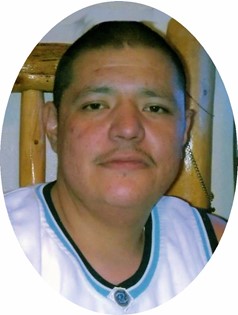 Rodney Jealous Of Him
May 8, 2014 - May 8, 2014
Rodney L Jealous Of Him, Jr. died on Saturday, May 3, 2014 at Riverton Memorial Hospital. A rosary will be held for him on Wednesday, May 07, 2014, at Blue Sky Hall at 7:00 pm followed by a wake also at Blue Sky Hall. A funeral mass will be held on Thursday, May 8, 2014 at 10:00 am Blue Sky Hall with Father Phil Wagner officiating. Burial will follow at Redman Sage Cemetery.

Rodney L. Jealous of Him, Jr. was born on September 26, 1982 in Lander, WY to Rodney P. Jealous of Him, Sr. and Frances (Willow) BlackBear. He lived most of his life in Wyoming attending Wyoming Indian Schools. He also lived in Washington and South Dakota for short periods.

He worked as a laborer and a housekeeper at the Best Western in Lander.

His family said that he enjoyed basketball, reading, going to the casino, was North Carolina basketball fan and spending time with his "bro's". He had a good sense of humor, was always joking and laughing and loved to spend time with his family.

He is survived by his companion, Latonia Killstop of Ethete; his daughter, Evelyn Jealous Of Him of Ethete; his mother and stepfather, Francis and Corwin BlackBear of Riverton; his father, Rodney P. Jealous Of Him, Sr. of Oglala, SD; his brother, Enroe Jealous Of Him, Sr. of Ethete; his sisters, Tiana (Stephen Eagle) Jealous Of Him of Riverton, Toshena (Anthony Irwin) Jealous Of Him of Fort Hall, ID, and Ellen KillsSmall of Oglala, SD; his aunts, Darlene WalksOut, Sandra Jealous Of Him, Connie Titus, Judy Grass, Sissy Titus, and Karen Titus all of Oglala, SD, Vicki Moss and Janis Moss of Ethete; his uncles, Donroy Titus of Oglala, SD and Rodney Willow, Rueben Willow and Wesley Willow all of Ethete; and the families in South Dakota and Washington.

She was preceded in death by his grandparents, Oliver and Evelyn Willow and Elizabeth and Chaske Titus; his grandmother, Sylvia WhiteDress; his sister, Morning Star Jealous Of Him; his aunts, Roberta Lambert and Ruby Willow; his nephew, John Thomas Jealous; and his cousins, Matthew Titus, David Moss, Jr. and Nile BadHeartBull.

On-line condolences for the family may be made at www.TheDavisFuneralHome.com.

Services are under the direction of Davis Funeral Home.