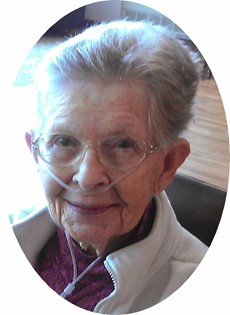 June "Rusty" Tompkins
Jul 29, 1928 - May 6, 2014
June "Rusty" Tompkins, 86, of Dubois died on Tuesday, May 6, 2014, at Kindred Healthcare-Wind River in Riverton, WY. Cremation has taken place and her ashes will be buried in the family plot in Eden, WY. A memorial service will be held on Friday, May 16, 2014, at the Dennison Lodge in Dubois at 2:00 pm.

June Louise Meyer was born on July 29, 1928 in Daniel, WY to William A. Meyer and Velma O. (Anderson) Meyer. She was one of three children, two girls and a boy. She grew up in the Eden Valley area. She lost her brother when he was 15 years old in a spring blizzard in the valley. She graduated high school in Eden, WY and then attended nurses training in Rock Springs, WY.

On June 19, 1948 in Rock Springs, WY she married her husband, Donald E. Tompkins. Together they raised three boys, Dan, Wayne, and Curt and one girl, Kathleen. The family lived in Rock Springs, WY before moving to Logan, UT. She recently moved to Dubois to be near her family.

She was very active in her church, Emmanuel Baptist Church, located in Hyrum, UT. She was on the Business Committee, taught Sunday School, and was the church treasurer.

After raising her children, she returned to college and at the age of 55 graduated from the Business College in Logan, UT. Her family said she always found time to keep her yard beautiful and grow Iris. Over the years she collected many different kinds and colors. She would exchange a new variety with her mother each Mother's Day, a tradition that was kept for years, until she lost her mother.

She is survived by her daughter, Kathleen (Tom) Taylor of Dubois, WY; her sons, Dan (Kelly) Tompkins of Oklahoma City, OK, Wayne "Ace" Tompkins of Dubois, WY, and Curt (Michelle) Tompkins of Hyrum, UT; and her grandchildren, Kate Tompkins, Chanel Tompkins, and Ted Tompkins.

She was preceded in death by her husband, Donald Tompkins; her parents, Bill and Velma Meyer; her sister, Ruth Darland; and her brother, Bill Meyer.

On-line condolences for the family may be made at www.TheDavisFuneralHome.com.

Services are under the direction of Davis Funeral Home.