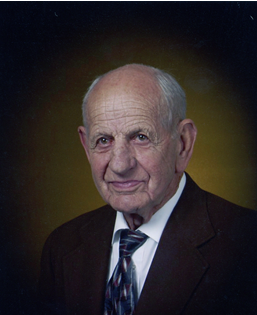 Norris "Nort" Axthelm
Apr 11, 1921 - Jun 1, 2014

Norris "Nort" Elmer Axthelm, of Riverton, Wyoming, died Sunday, June 1, 2014. He was 93 years old. The funeral service will be at 11:00 a.m., Saturday, June 7, 2014 at Davis Funeral Home. The Pastor Scott McFarland will officiate.

Norris Elmer Axthelm was born April 11, 1921, in Sutherland, Nebraska, the son of Grace Irene (Graham) Axthelm and Elmer Andrew Axthelm. He was married to Mary Louise Thompson on February 2, 1947 and celebrated 67 wonderful years together.

He grew up in Gothenburg, Nebraska, went to college on a football scholarship at Colorado State College (now known as the University of Northern Colorado) for a year while waiting for his opportunity to serve in the Army Air Corps as an Air Cadet during World War II. During his service he attended various colleges and universities around the United States as part of his officer training while serving stateside as a bombardier navigator on a B-25 flight crew. Upon his discharge from the service Nort attended the University of Nebraska, School of Dentistry where he graduated in 1951. He then moved with his wife to Riverton, Wyoming and practiced dentistry until 1993.

Nort was active in the United Methodist Church, Jaycees, Kiwanis, and Izaak Walton League. He served on the Riverton School Board for District 25 and was instrumental in building the first nine holes of the Riverton Country Club. He spent hundreds of volunteer hours nurturing and hand watering "his" trees across the entire course.

He loved community sporting events and was an avid fan of everything from little league baseball to high school football. He volunteered to help out doing anything from building baseball fields at City Park, to timing track events, to building the children's playground at Jaycee Park at the age of 86.

His family said he enjoyed hunting, fishing, camping, golfing, painting and "building" projects with his grandchildren. Above all he loved spending time with his family. He loved a good joke and will long be remembered for his quick wit and infectious laugh. Norris E. Axthelm is survived by his wife, daughters Sheila (Robin) Hill of Rapid City, SD, Pam (Wes) Roberts of Riverton; sons Tom (Vicki) Axthelm and Mike (Mary) Athelm of Riverton and Gary (Nancy) Axthelm of Cody. Surviving grandchildren include Traci Hill, Megan Johnson, Andrew Hill, Erik Axthelm, Brock Roberts, Cole Axthelm, Lauren Roberts, Troy Axthelm, Bryce Roberts, Ryan Axthelm and Reed Axthelm; great-grandchildren Genevieve Stevens and Oliver Johnson.

He was preceded in death by his parents, Elmer and Grace Axthelm, brothers, Kenneth Axthelm, Cecil Axthelm, and Clayton Axthelm; sisters Ethel VanWey and Mildred Umschler.

Memorials may be made to Help for Health Hospice or a charity of your choice in care of Davis Funeral Home, 2203 West Main Street, Riveton, WY 82501.

On-line condolences for the family may be made at www.TheDavisFuneralHome.com.

Arrangements are under the direction of Davis Funeral Home of Riverton.