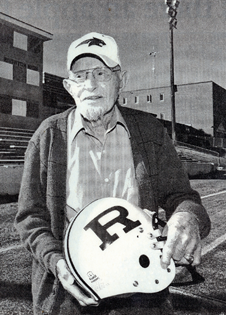 Otho Kisling
Sep 13, 1914 - May 26, 2014
Otho J. Kisling, 99, of Riverton died at the Help for Health Hospice Home, on Monday, May 26, 2014. A memorial service will be held on Saturday, June 14, 2014, at the United Methodist Church at 11:00 am. Inurnment will take place at Mountain View Cemetery.

Otho John Kisling was born on September 13, 1914 in Litchfield, NE to Henry Cleveland and Lucinda Craven (Verenne) Kisling. He was on of five children, two girls and three boys. When he was four years old, his mother passed away in the flu epidemic of 1918. His father raised the boys and the girls went to live with an aunt. He was raised in Litchfield, graduating high school in 1933. He was the quarterback of his high school football team. He went for one year to the Kearney Teachers College, where he also played football.

He spent a year in the Army Civilian Conservation Corp during WWII.

In 1936 he came to Riverton. He met his wife, Dorothy Elaine VonKrosigk. They wed on September 22, 1940 at the Riverton Methodist Church. They had three children, Kathleen, Deena and Edward. Together they raised their children in Riverton, where he owned and operated, O.J. Kisling Painting Contractor. He and Dorothy celebrated 65 years together before her passing on October 2, 2005.

He was a long-standing member of the United Methodist Church in Riverton. He had held the Chairman of the Board in the past. When the new church was built in 1960-1961, he was the paint contractor.

He was very active in the community being involved with the Masonic Temple, Shriner's, Lions, and the Cowboy Joe Club. He was awarded the Wally Award from Riverton High School for an Outstanding Supporter of high school athletics. He was at the first football game in the Tonkin Stadium in 1937 and was there for the last one in 2010. He was also a volunteer fireman in Riverton, for 30 years, from 1940 to 1970.

His family said the he enjoyed fishing and reading. He loved traveling and visited 49 states and enjoyed each adventure. He loved Riverton High School sports never missing an opportunity to watch and support. He was especially proud to watch his Riverton, grandchildren, Todd Brown and, Jenelle Brown-Andre' and all of his grandchildren in other towns, traveling when possible to watch them. He was his grandchildren's biggest supporter.

He is survived by his daughters, Kathleen (Rich) Brown , of Riverton, WY and Deena (Don) Gillespie of Cody, WY; his son, Edward (Alicia) Kisling of Clamath Falls, OR; his sister, Loice Kisling-Brown of Chino, CA; his sister-in-law, Louise Kisling of Pleasanton, NE; his eight grandchildren, Reid Kisling, Craig Kisling, Holly Kisling-Armstrong, Justin Gillespie, Andrea Gillespie-Hubbard, John Gillespie, Todd Brown and Jenelle Brown-Andre; his twenty one great grandchildren, and his one great great grandchild; and numerous nieces and nephews.

Memorials may be made to the United Methodist Church or Help for Health Hospice Home in care of Davis Funeral Home, 2203 West Main Street, Riverton, WY 82501.

On-line condolences for the family may be made at www.TheDavisFuneralHome.com.

Services are under the direction of Davis Funeral Home.