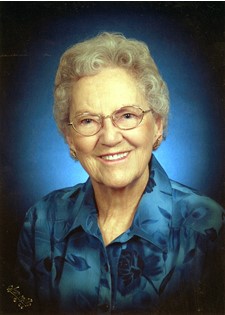 Theresa Duncan
Jun 27, 1913 - May 27, 2014
Theresa M. Duncan

Theresa Mae (Grice) Duncan, age 100, died May 27, 2014 at Westward Heights Care Center, Lander, Wyoming.

Born June 27, 1913 at Sundance, Wyoming to John and Josephine (Caldwell) Grice, Theresa attended local schools and graduated in 1930 as Sundance High School class valedictorian. She took post-high school normal training, taught at a one-room elementary Weston County school, and worked for the Sundance-based family lumber and hardware business. She married William L. (Bill) Duncan on May 20, 1934 at Deadwood, South Dakota.

The couple set up housekeeping at Green River, Wyoming where Bill was the University of Wyoming Agricultural Extension Agent for Sweetwater County. Her first two sons, Bill and Tom, were born at the nearest hospital in Rock Springs, Wyoming. In September, 1944 Bill accepted a position as the Fremont County Extension Agent and the family moved to Lander, Wyoming where her third son, Bob, was born. She lived in Lander for the remainder of her life.

At Green River, Theresa joined Eastern Star in May, 1935 and at her death, had been a member for 79 years. She also was a Girl Scout leader, established a Homemakers Club and was active in the Green River Congregational Church.

At Lander, she worked in the Lander Grade School system in several capacities ranging from substitute teaching to administrative secretary. After Theresa and Bill retired in 1966, the couple traveled extensively. Both participated in Eastern Star events and offices at local, state and national levels. In 1968, Theresa was Worthy Grand Matron for the State of Wyoming. She joined the Lander Methodist Church in 1944 where she later taught pre-school Sunday School classes, served as Sunday School Superintendent and participated in numerous church-related, public school, and community groups.

Survivors include sons Tom (Marilú) Duncan , of Riverton and Bob (Kath) Duncan, of Chevy Chase, Maryland, nine grandchildren, 15 great grandchildren, 13 great-great grandchildren and numerous nieces and nephews.

William L. (Bill) Duncan, son William D. (Bill) Duncan and sisters Darlene and Lola Jane, preceded her in death.

Rev. Mark Calhoun will conduct a memorial service at 2 p.m., Thursday, June 12 at the Lander United Methodist Church, 262 N. Third St. with burial at Mt. Hope Cemetery next to her husband. Relatives and friends are welcome at a post-burial reception at the church.

In lieu of flowers, people may contribute to the Duncan-Chapela Scholarship Endowment at the Central Wyoming College Foundation, 2660 Peck Ave., Riverton, WY 82501.