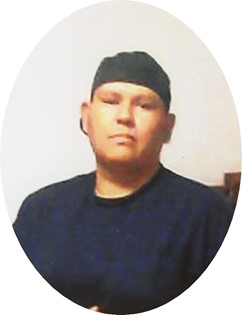 Lawrence "Cambys" Jenkins
Jun 10, 2014 - Jun 10, 2014
Lawrence "Cambys" Jenkins, 32, of St. Stephens died at Sage West Health Care- Riverton on Sunday, June 8, 2014. A rosary and wake will be held on Thursday, June 12, 2014 at 7:00pm at 1641 17 Mile Road. A funeral mass will be on Friday, June 13, 2014, at 10:00 am at St. Stephens Catholic Church with Father Phil Wagner officiating. Burial will be at Arapaho Catholic Cemetery.

Lawrence Daniel Jenkins, Sr. was born in Riverton to Catherine Mary Jenkins on April 30, 1982. He attended Sunrise School and Arapahoe Schools. He lived his entire live on the Wind River Reservation.

He was of the Catholic faith and practiced the traditional ways.

He worked at the Wind River Casino.

His family said that he enjoyed listening to music, going to the casino, driving around, and loved spending time with his family.

He is survived by his mother, Catherine Jenkins; his godmother, Judy Warren; his sons, Lawrence Daniel Jenkins, Jr., Terrence James Jenkins, Terrell Anthony Jenkins, and Monnie Kane Jenkins; his grandmother, Lydia Jenkins and Valene Revere; his daughters, Tyra P. Jenkins and Nyra L. Jenkins; his special friend, Mallory Posey; his brothers, Terrence P. Jenkins, Travis "Rambo" Warren, Ronnie Jenkins, Joseph Jenkins, Jude "Yoshi" Jenkins, Jr., Jim Bob Jenkins, Cody Blackburn, Jude James Jenkins, Charles 'MR" Brown, Adrian Spottedelk, Eldon Spottedelk, Paul H. Warren, Jr., Jerome Warren, Louie Oldman, Hubert "Pote" Waren, Daniel "Bob" Warren, Pascal Warren, Donald Warren, Dylan Blackburn, Derek Headley, James S. Eagle, Steven Eagle, Jr., Josh Headley, Isaac Jenkins, Chato Lyday, Monte Fox, Thurlo Tidzump, Lloyd J. Jenkins, James Hill, Vernon Hill, Jr., Earl Hill, Ledale Hanway, Kenny Slattery, Angelo Jenkins, Larry Mascarenaz, Reland Littlshield, Enik Jenkins, Donovan Shakespeare, Ryan Bowstring, Anthony J. Jenkins, Patrick SunRhodes, Lance Addison, Herman Addison and Jude Blackburn; his sisters, Amanda L. Jenkins and Jamie L Jenkins, Melain Jenkins, Adelia Jenkins, Kelly Jenkins, Jody Blackburn, Charnele Jenkins, Charlene Brown, Tala Spottedelk, Desea Spottedelk, Dani Spottedelk, Amanda N Jenkins, Rosalia Warren, Sonya Prettyweasel, Ineza Polen, Cheyenne Romero, Kateri Warren, Therese Warren, Charmayne Warren, Raylene Warren, Emily Underwood, Nelida Mendoza, Teryl Jenkins and Joann Jenkins; his aunts, Lucy Jenkins, Michele Jenkins, Claudia Jenkins, Judy Warren, Belinda Warren, Pauline Polen, Kathleen Warren, Caroline Hill and Marie Jenkins; and his uncles, John "Bimbo" Jenkins, Sr., Mike Jenkins, Hubbs Warren, Paul Warren, Sr., Clarence Jenkins, Melvin Blackburn, Calvin Polen, Bart Molash, Charlie Brown, and Mike Yellowplume.

He was preceded in death by his grandparents, Nora Jenkins, Inez Warren, Lloyd Jenkins, James A. Jenkins, Hubert E. Warren, Jimmy Oldman and Edward Behan; his great grandparents, Thurlo and Amanda Jenkins; his brother, Robert Thomas; his uncle, Anthony C. Jenkins, his nephew, Steven Warren and baby girl Jenkins.

On-line condolences for the family may be made at www.TheDavisFuneralHome.com.

Services are under the direction of Davis Funeral Home.