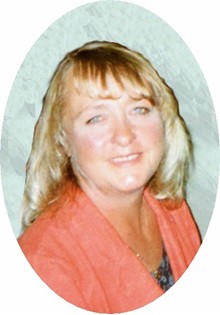 Margaret "Margy" Stetler
Jun 20, 1969 - Jun 22, 2014
Margaret " Margy" Stetler, 45, of Shoshoni, died on Sunday, June 22, 2014, at Sage West Health Care – Riverton. A memorial service will be held on Sunday, June 29, 2014, at the Shoshoni Community Hall at the Fire Department at 2:00 pm. Pastor Dale Gibson will officiate.

Margaret Lurene Blakesly was born on June 20, 1969 in Douglas, WY to Fred Irving and Bonnie Jean (Blissard) Blakesly. She attended school in Thermopolis and graduated from Thermopolis High School.

She was of the Methodist faith.

On September 23, 2000 she married Jacob Zieber Stetler. They had a daughter Margaret Hope Olivia Stetler, aka "Mustard". She lived in Shoshoni for the last 13 years.

She worked for Gunner's Automotive for 13 years as their service writer.

She belonged to the Wind River Muzzleloaders Association.

Her family said that she lived every day of her life. She laughed whole-heartedly. She loved completely. If you didn't love Margy, you didn't know her.

She is survived by her husband, Jacob of the family home; her daughter, Margaret Hope Olivia Stetler; her father, Leslie Nicolen; her brothers, John Vaught and Steve Vaught; her sister, Penny Kaye Vaught; her in-laws, Zieber and Joan Stetler; her niece, Lacy Mills, numerous cousins, aunts, uncles, nieces and nephews; and numerous other family and friends.

She was preceded in death by her parents, Fred and Bonnie Blakesly; and her grandparents.

Memorials may be made to the Diabetic Association in care of Davis Funeral Home, 2203 West Main Street, Riverton, WY 82501.

On-line condolences for the family may be made at www.TheDavisFuneralHome.com.

Services are under the direction of Davis Funeral Home.