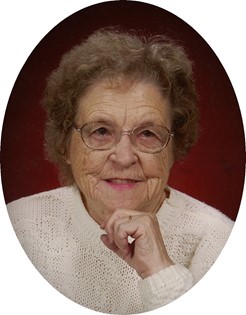 Ruth Schupp
Aug 12, 1915 - Jun 21, 2014
A Memorial service for Ruth L. Schupp, who died June 21, 2014 at Westward Heights in Lander, Wyoming, will be held 3:00 p.m., Thursday, July 3rd at Bethel Lutheran Church with Rev. Fred Schroeder and Rev. Mathew Andersen officiating.

Ruth was born August 12, 1915 in Monon, Indiana daughter of William C. and Edna (Dunlap) Carter.

As a child, she lived at a Soldier's home and knew many Civil War Veterans. She moved from Colorado to Lander in 1986 to be close to family. Ruth enjoyed working as a foster grandmother for many years. She liked to create art and ceramics and enjoyed reading and traveling. She was a member of the Bethel Lutheran Church.

Survivors include her sons, Harold "Bud" Kuhn and his wife, Sharon, David Kuhn and his wife, Tanna, Stephen Kuhn and his wife, Cheryl; step-sons, David and Dick Schupp; daughters, Carol "Sue" Andersen and her husband, Harvey, and Patricia McFadden; 13 grandchildren and 7 great grandchildren.

She was preceded in death by her parents, husbands, Harold Kuhn, Sr. and Manford Schupp; sister, Ilo Kraft and step son, Ron Schupp.

On-line condolences for the family may be made at theDavisFuneralHome.com. Arrangements are under the direction of the Davis Funeral Home.