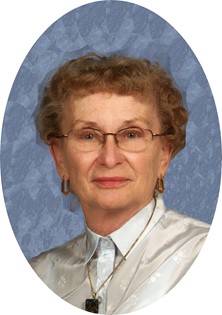 Marillyn "Jean" Eichler
Jul 25, 1927 - Jul 5, 2014
Marillyn "Jean" Eichler, 86, of Riverton, died on Saturday, July 5, 2014, at the Help for Health Hospice Home in Riverton. Funeral services will be held on Tuesday, July 8, 2014, at 2:00 pm at Davis Funeral Home, a viewing will be held prior to the service, starting at 1:00 pm.

Marillyn Jean Cleary was born on July 25, 1927 in Saginaw, MI to Edward William and Sylvia Maori (Griffith) Cleary. She was raised in Saginaw and graduated high school there. At 19 her family moved to Rose City, MI where her father established an insurance/real estate business. She worked in her father's office until she met and married William S. Eichler of Saginaw, MI on September 17, 1949. After graduation from the University of Michigan, Bill joined the family business in Rose City and expanded it to include accounting services. She worked beside him in the business helping with training and office administration.

Bill and Jean had two sons, William Edward Eichler and Richard Allen Eichler. She spent most of her time with her sons in school activities, room mother, 4-H projects, Boy Scouts den mother, piano lessons, tennis, golf, swimming, skiing, and horseback riding.

Besides being busy with her family she also was busy with the Methodist Church as a choir director for twenty years, Sunday School Superintendent, teacher, and chairperson of the Women's Society.

Bill and Jean enjoyed traveling and it was always west from Michigan. In the mid 70's they were able to realize a dream of living in the West and moved to Riverton, WY. After moving, she went to college and obtained her Bachelor of Arts degree from Laramie and did substitute teaching for School District 25 for many years. Again she was very active with her husband in the community, their church, and enjoyed their life to the fullest.

They traveled extensively, visiting many countries from Australia to Russia to China. They also enjoyed the orchestra in Jackson Hole and the plays and other cultural events at CWC. They were big supports of the arts.

She is survived by her son, Richard Eichler and his wife Mona from Lebanon, TN and her two grandchildren, Jacqueline Cornett and her husband, Brett from Lebanon, TN and Christina Eichler who is currently serving as a Missionary in Asia.

Memorials may be made to the United Methodist Church in care of Davis Funeral Home, 2203 West Main Street, Riverton, WY 82501.

On-line condolences for the family may be made at www.TheDavisFuneralHome.com.

Services are under the direction of Davis Funeral Home.