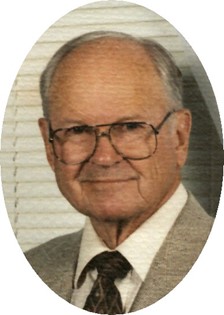 Herman S. Teague
Feb 2, 1920 - Feb 12, 2008
Herman S. Teague was a "wonderful, gentle man with a good heart and did everything he could to lend a hand whenever needed" said Pauline Culver, his neighbor and long time friend, but Herman also gained a measure of distinction as a B-24 Bomber Pilot during WWII. Herman S. Teague died of heart disease and other complications February 11th in Scottsdale, Arizona, with his daughter, Cherie Newman and stepdaughter, Linda Kilfoy at his side. He was 88.

A service is planned at the United Methodist Church, 1116 West Park Avenue, Riverton, Wyoming at 10:00 Tuesday, February 19, 2008.

During World War II, Herman interrupted his studies at the University of Arizona and volunteered for The United States Army Air Force. He flew enough combat missions in epic battles such as Iwo Jima, Siapan and the Philippines to earn the right to exchange his combat flying status for a ground assignment. He was a true Patriot and an honored member of "The Greatest Generation".

According to his son-in law Fred Kilfoy, Herman was very proud that he always managed to get his battle battered bomber and crew safely home and especially, one mission when his plane was so heavily damaged from enemy fire that he thought it would crash. He ordered his crew to bailout but upon learning that he was going to attempt to keep it in the air and fly it home, his crew refused to jump to safety and stayed with him. With his excellence in piloting skills, determination and according to him "dumb luck" he got all 12 men and the plane safely back to their base.

Herman Sidney Teague was born February 02, 1920 in Clarkdale Arizona where he grew up and graduated from Clarkdale High School, (now Mingus Union High School). He was an accomplished athlete participating in football, track and basketball. After high school he attended University of Arizona following his father's footsteps by studying metallurgy.

After the war, he returned to the University of Arizona, completing his degree in Metallurgy. He married his high school classmate, Betty Perick in 1942 at Cottonwood, AZ and they had 3 children, Larry, Cherie and Ronald. Betty died of cancer in 1978.

Herman is fondly remembered for his sense of humor and endless repertoire of stories and jokes said Ross Hoyt. Ross should know as he spent "more hours than you can count" sitting around hunting or fishing campfires, on horse back and in golf carts listening to Herman's tales. Ross related that one of Herman's favorite preambles to a story was, "don't stop me if I have told this you story before because I want to hear myself tell it again".

He started his professional career working with his father who operated the Jerome Copper Smelter in Jerome, Arizona. In 1950, he moved his family to Springville, Utah where he worked in the metallurgy lab at U S Steel's Geneva Plant in Provo, Utah. In 1962 he transferred to Lander, Wyoming and became General Foreman responsible for ore processing and shipping at the U S Steel Taconite Mine at South Pass, Wyoming. He married Cecil Slagle in 1979 and they lived in Riverton, Wyoming. After he retired in 1982, they spent many winters in Yuma, Arizona enjoying the warm climate and the golf courses. Cecil died in 2000.

He loved exploring Wyoming on his favorite Arabian horse and spent considerable time hunting and fishing the Wind River Mountains with his close friends Ross Hoyt and Ray Crook. " The last few years he left his rifle at home as he just enjoyed the mountains, riding, telling stories and his friends" said Ross.

Herman was an avid golfer and sportsman, endowed with a wonderful sense of humor, humility and honor. He was proud to be a Mason and an active member of the Shriners of North America.

Herman was preceded in death by his parents, Howard S. Teague and Emma Teague; sisters Orpha and Dorothy; brother Marion; and his son, Ronald.

Herman is survived by his son, Larry (Li); daughter, Cherie (Chris) of Sedona AZ; stepdaughter, Linda Kilfoy (Fred) of Scottsdale, AZ; Seven grandchildren and Five great-grandchildren.