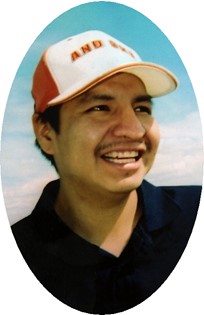 Ivan Pine, Sr.
Jul 23, 1980 - Sep 1, 2014
Funeral services for Ivan Ray Pine, Sr., 34, who died September 1, 2014, will be held at 10:00 a.m., Friday, September 5, 2014 at St. Stephens Catholic Church with Father Phillip Wagner officiating. Interment will follow at Arapaho Catholic Cemetery. A Rosary will be recited at 7:00 p.m., Thursday, Sept 4th at Great Plains Hall with a wake to follow.

Ivan was born July 23, 1980 in Riverton, Wyoming, son of Raymond Pine, Sr. and Loretta Frances (Oldman) Pine. He lived with his family in Lamedeer, MT until he was 10 years old and then moved to Fremont County, where he graduated from St. Stephens High School in 1999.

On February 1, 2013, he married Melissa Rose Bercier in Lander, WY.

He worked as a welder, a laborer for St. Stephens, a Sho-Rap Fire Fighter and at the Wind River Casinos.

Ivan was a very musical person who enjoyed singing and playing the hand drums. He enjoyed attending Pow Wows with his sons and used to always place 1st or 2nd in Pow Wows and was well known throughout the circuit. His family says that Ivan was known to volunteer for anything and never denied anyone help. Most importantly, he lived his life as a Northern Arapaho/Cheyenne Tribal member and respected his culture. He enjoyed playing basketball and grass dancing. He was known for his sense of humor and liked to tease those he loved. Ivan was a member of the Eagle Drum Group and was a pledger in the Northern Cheyenne Sundance.

Survivors include his wife, Melissa; mother, Loretta Pine; adopted mother, Clarinda Calling Thunder; sons, Jerome Presley Fox, Ivan Pine, Jr., Ramiro Gonzalez, Jose Gonzalez, and Kobe Engavo; daughters, Veronica Engavo, Angelica Engavo and Maricella Gonzalez; grandson, Mason Gonzalez; brothers, Gary Antelope, Ian Pine, Sr., Raymond Pine, Jr., Dominic Fighting Bear, Leland Fighting Bear, Homer Fighting Bear, Jr., Irvin Fighting Bear, Jr., Ethan Fighting Bear, Dakotah Fighting Bear, Jerry Antelope, Jr., Donovan Antelope, Shane Limpy, Shawn Limpy, Darryn Davis, Franklin Antelope, III, Ashton Antelope, Wesley Antelope, Jr., Van Ryan, Quentin Ryan, Paul Ryan, Brent Ryan, Flint Roundstone, Harlin Roundstone, Chey Roundstone, Charlie Oldman, Herbie Augustine, Jermaine Bell, Luke Bell, Dexter Spoonhunter and Dane Antelope; sisters, Elizabeth ET Pine, Florence Pine, Kelli Davis, Lisa Davis, Shanell Duran, Jerilyn Antelope, Kristen Antelope, and Katelyn Antelope; grandparents, Nora Pauline Oldman, Daniel Oldman, Stuart Oldman and Verna Calling Thunder; uncles, Jerry Antelope, Franklin P. Antelope, Wesley Antelope, Homer Fighting Bear, Sr., Punkin Oldman, Ronnie Oldman and Melvin Oldman; aunts, Annmae Ryan, Hold a Roundstone, Mary Fighting Bear, Alfreda Antelope and Kay Davis.

He was preceded in death by his father, Raymond Pine, Sr., grandparents, Franklin and Elizabeth Antelope, Daniel and Florence Pine and LeRoy Pine.

On-line condolences for the family may be made at theDavisFuneralHome.com. Services are under the direction of the Davis Funeral Home.