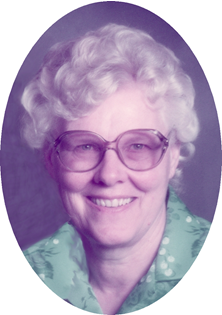 Elizabeth Merrifield
Nov 14, 1921 - Sep 3, 2014
Elizabeth Katherine "Betty" (Rothfus) Merrifield, 92, died September 3, 2014 at Westward Heights Care Center in Lander, Wyoming. Cremation has occurred and as per her request. The family held a private service on Sunday, September 7, 2014, in the mountains she loved. Memorial donations can be made to the Dubois Sheep Center in care of Davis Funeral Home.

Betty was born November 14, 1921, in Arkansas City, KS daughter of Albert William and Nellie Mina (Rice) Rothfus.

Quite adventurous as a young woman working her way through college and taking pilot's lessons. Completed her Bachelors degree before joining the Marine Corp in 1945, during World War II. She was made a corporal and stationed in San Diego where she met her husband, George Charles, a Pearl Harbor survivor. They married on July 20, 1947 at her family home in Ponca City Oklahoma. They both attended Oklahoma State University on the G.I. Bill and she received a Master's Degree. The family moved frequently in Oklahoma, Wyoming and Colorado. She and her husband retired to Dubois in 1978 where they continued to enjoy the outdoor life. She enjoyed hunting with her husband, quilting, crocheting and reading. Was a member of the Dubois extension group. She moved to Lander to be closer to her family in 2001. At the time of her death she was a resident of Westward Heights Care Facility.

Survivors include her Sons, Dave Merrifield (Mary) of Dallas TX; Daughters, Barbara Oakleaf (Bob) of Lander WY and Patricia Merrifield of Arvada Co; 8 Granchildren: Heidi (Merrifield) Morris of Durango, Todd Merrifield of Denver Co, Jim Oakleaf of Ft Collins, John Oakleaf of Cedar Crest NM, Joshua Oakleaf of Lander, Jared Oakleaf of Lander, Charles Toombs of Denver Co and Anna Lee Toombs of Arvada Co.

She was preceded in death by her husband George; her parents, sisters, Phyllis Lichtenstein, Louise Monday and Norma Lee Rothfus; Brothers: Charles Albert Rothfus, William Rothfus.

On-line condolences for the family may be made at theDavisFuneralHome.com. Services are under the direction of the Davis Funeral Home.