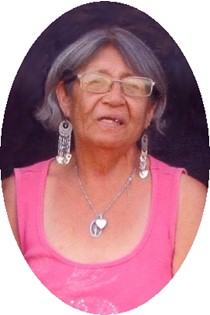 Victoria Marie Eagle
Jul 10, 1953 - Sep 9, 2014
Victoria Eagle, 61, of St. Stephens, WY died at her home on Tuesday, September 9, 2014. A rosary will be held on Sunday, September 14, 2014, at 7:00 pm at St. Stephens Catholic Church. A wake will follow at 1575 East Monroe Space 46 in Riverton, WY. A funeral mass will be held on Monday, September 15, 2014, at St. Stephens Catholic Church at 10:00 am with burial at Arapaho Catholic Cemetery.

Victoria Marie Sitting Eagle was born on July 10, 1953 in Riverton, WY to James Nicholas and Amelia (Caldwell) Sitting Eagle. She lived most of her life in Wyoming.

Her family said that she loved spending time with her family, was an avid reader, and that her dogs, Little Bit and Choco, went everywhere with her.

She is survived by her sons, Sam Wilson and Eugene Coulston; her daughters, Toni Coulston and Sara Wilson; her sister, Susan Duran; her companion, Joe Brown; and several grandchildren and two great grandchildren.

She was preceded in death by her parents, James and Amelia Sitting Eagle; her grandparents, Steven and Emily Sitting Eagle; her brother, Steven Sitting Eagle; her sister, Linda Revere; her son, Terry Coulston; and her grandson, Steven Warren.

On-line condolences may be made to the family at www.TheDavisFuneralHome.com

Services are under the direction of the Davis Funeral Home.