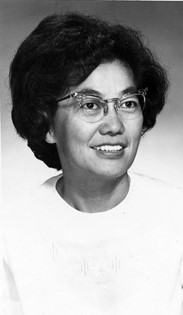 Susan Sunada
Aug 15, 1923 - Sep 19, 2014
Susan Sunada, 91, passed away Sept. 19, 2014, at the home of her daughter Sheila Newlin, 44 Sunnyside Avenue, Riverton, WY 82501. She was formerly of Logan, Utah. She now rests beside her husband George at Mountain View Cemetery, Riverton, Wyoming. No services were held. Because she was a writer who preferred writings to gatherings, a "non-service" memorial booklet will be prepared for friends and relatives.

Susan Sunada was born August 15, 1923, Devil's Slide, Morgan County, Utah. Her father was a section foreman on the Union Pacific Railroad, and her mother was a nurse.

She attended one-room schools in Granger and LeRoy, Wyoming. In 1936, the family moved to Hollywood, California, where her father bought a grocery store which he named "Wyoming Market." In 1939, she graduated at age 15 from John Marshall High School, Los Angeles, majoring in science. Susan attended Hollywood Independent Church where she sang in the choir and was editor of the newsletter.

In 1941, she graduated at age 17 from Los Angeles City College with an Associate of Arts degree in pre-nursing. She worked as a Nurses' Aide at California Lutheran Hospital.

When Pearl Harbor was bombed, Susan fled to Minot, North Dakota. Her family was incarcerated at Heart Mountain, Wyoming. On March 7, 1943, she married George Sunada in the Congregational Church in Green River, Wyoming. They worked in bakeries in Green River and Rock Springs. George joined the Army, 442 regimental combat team, and served in France and Italy. In 1945, he returned with a Bronze Star Medal and a Purple Heart.

They worked in Denver and Salt Lake City, then moved to Logan, Utah, in 1953. George worked as a commercial artist for Sears. Susan was the Foreign Student Advisor for Utah State University, a secretary for Baugh Real Estate, executive secretary to the mayor, and a photo-journalist for the Deseret News of Salt Lake City. Their two daughters and a son graduated from Utah State University.

Susan was a writer, researcher, and photographer. She had a history and crafts booth in the annual "Festival of the American West" in Logan. She crocheted doilies and knitted afghans. She folded paper into cranes and miniature parasols. She taught classes, judged at county fairs, set up museum exhibits, and gave lectures and slide shows. She listened to classical music, planted multi-colored irises, took daily walks, and adopted pets including an owl, a parrot, cats, and dogs.

Awards included the USU Robins Award for volunteer service in 1962, "Outstanding Correspondent" for the Deseret News in 1973, and a "Cache Valley Treasure" in 1991. She received the "Woman Over 65 Achievement Award" from the USU Women's Center in 1995, the Governor's "Asian American Community Leadership Award" in 1996, the "Lifetime Achievement Award" from the National Association of Asian-American Students in 2002, and the "Utah Woman of Achievement Award," presented by Governor Michael Leavitt in 2003.

Susan published the following books: The Handy Book for USU international students, 1966; Tiny Treasures, 1970; Wedding Treasures, 1974; and Message to Marcia: A Bicentennial Melodrama , 1976. Her massive work entitled Japanese-American Pioneers in the Intermountain Area is with the Special Collections at Utah State University.

Susan and her husband moved to Riverton, Wyoming, in November 2003.

She is survived by daughter Sheila (Doug) Newlin of Riverton, Wyoming, and family: Lena (Laramie), Andy (Cheyenne), and Aura (Cody). Daughter Cheryl (Chandler) Whitelaw and family: Chery, Richard, Robert, Randy, and Brett of Cedar City, Utah, and Cindy of North Carolina. Daughter-in-Law Sheryl Sunada Monson (Kay) of Orem, Utah, and family: Grant (Woods Cross) and Christine (Springville). Sister Bunny (Mas) Ogimachi of Long Beach, California; best friends Pat Steen of Riverton and Joan Liechty of Logan; and her feline companions, Ebony and Golda.

She was preceded in death by her son, Lt. Colonel Roger Sunada, an Air Force Veteran of Desert Storm. He passed away in Logan, Utah, in December 2000. Her husband, George, was a WWII Veteran. He passed away in Riverton in December 2003.

Online condolences may be written to www.thedavisfuneralhome.com.