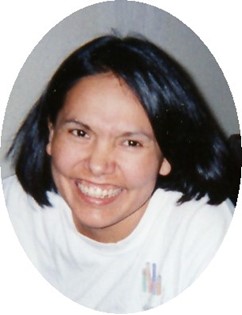 Michelle LaJeunesse
Jan 23, 1969 - Oct 2, 2014
Funeral services for Michelle Leigh "Shell" (Harris) LaJeunesse, 45, will be held 10:00 a.m., Tuesday, October 7, 2014 at Blue Sky Hall. Interment will follow at Yellow Calf Cemetery. A wake will be begin at 6:00 p.m., Monday, October 6th at the home of Pat and Clarisse Harris 259 Plunkett Road.

She passed away on October 2, 2014 in Riverton, WY.

Michelle was born January 23, 1969, in Lander, Wyoming, daughter of Lynn Patrick and Clarisse Elaine (Spratt) Harris.

She graduated from Wyoming Indian High School and then received her Associates Degree in Accounting from Central Wyoming College. Michelle lived in Big Pine, California until 1981, then lived in Denver, CO from 1993 until 1995 until she finally moved to Fremont County and Wind River Reservation in 1996 until the present time.

She married Julius LaJeunesse on December 2, 2011 in Lander, Wyoming.

Shell enjoyed spending time outdoors fishing and hunting. She also enjoyed playing sports such as basketball and softball and also loved to cook.

Survivors include her husband of Riverton; parents, Lynn and Clarisse Harris; sons, Robert Reed and Milton Trosper, III; daughters, Johanna Reed, Ashleigh Trosper, Joely Trosper and Alexandria Trosper; 3 grandchildren, Jonah Hill, Joey Hill and Bayleigh-Ann Redman; brothers, Ty Harris, Brad Harris, Lee Martel, Thumper, Kaycee; sisters, Joely Larsen, Patti Baldes and Desirae Caldwell.

She was preceded in death by her maternal grandparents, Clarence Spratt and Evelyn B. Hill, paternal grandparents, Ambrosia and Raymond Harris, brother, Dodie Harris, uncle, Johnny Spratt, uncle, Claude Spratt, aunt, Christine Stewart, uncle, Leonard Harris, uncle, James Harris, uncle, Valentine Harris, uncle, Gary Lamont Harris.

On-line condolences for the family may be made at theDavisFuneralHome.com. Services are under the direction of the Davis Funeral Home.