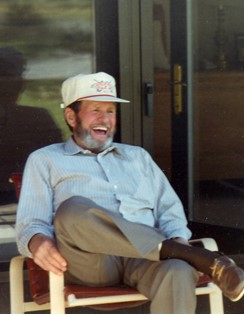 N.D. Thomas
Jun 25, 1928 - Oct 7, 2014

N.D. Thomas, 86, of Riverton, died on Sunday, October 5, 2014, at the Help for Health Hospice Home with his wife and family by his side. A funeral service will be held on Thursday, October 9, 2014, at 2:00 pm at Davis Funeral Home. Burial will follow at Mountain View Cemetery.

Newell Duward Thomas was born on June 25, 1928 in Breckenridge, TX to Roy and Mona (Sikes) Thomas. He grew up in Breckenridge with three brothers and one sister. After graduating high school, he joined the U.S. Army and served during the Korean War. He was honorably discharged. He moved to Riverton in 1952.

He was baptized into the Pentecostal Faith.

On November 15, 1952, he married his soul mate, Ramona Jones, in Riverton, WY.

He worked for RL Manning Drilling Company of Denver, Energy Resources, and BHP. He retired as a consultant for BHP in1989.

He loved to play golf, collect model cars, and fish.

He is survived by his wife of 61 years, Ramona; his sisters-in-law, Brenda (Vernon) David, Barbara Williams, and Nelda (Don) Harper; and numerous nieces and nephews.

He was preceded in death by his parents, Roy and Mona Thomas, three brothers, and one sister.

Memorials may be made to the donor's choice or Help for Health Hospice in care of the Davis Funeral Home, 2203 W. Main Street, Riverton, WY 82501.

On-line condolences may be made to the family at www.TheDavisFuneralHome.com

Services are under the direction of the Davis Funeral Home.