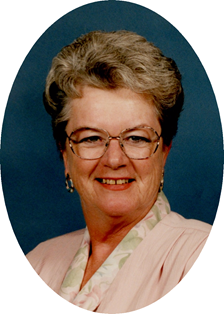 Jean Mattson
Sep 9, 1929 - Oct 12, 2014
Jean Mattson, 85, of Riverton, died on Sunday, October 12, 2014, at Kindred Nursing and Rehabilitation – Wind River. A graveside service will be held on Wednesday, October 15th at 2:00 p.m. at the Mountain View Cemetery.

Jean Hughes was born on September 9, 1929 in Kennett Square, PA to Cloud Doer and Anna (Dilworth) Hughes. She was one of four children. She grew up and attended schools and was graduated from Unionville Joint Consolidated High School class of 1947.

On April 30, 1949, she married Palmer J. Mattson, III at the Westminster Presbyterian Church in West Chester, PA. They had one daughter, Linda.

She worked for McNeil Pest Control as the office manager for over 30 years. She was a member of the Pennsylvania Pest Control Association and held the position of District Director of the National Pest Control Association.

In 1988, she and her husband moved to Riverton, WY. After moving to Riverton, she worked at the Wyoming Senior Citizens, Inc.

She loved the mountains, hunting, fishing, and the great outdoors. She also enjoyed knitting, crocheting, swimming, playing the organ and music in general.

She was an award winner trap shooter. She won numerous trophies locally, state wide, and nationally. She won several at the competition of Grand American, which is held in Vandalia, OH. She was a life member of the ATA (Amateur Trap Shooting Association).

She is survived by her husband of 65 years, Palmer J. Mattson, III; her daughter, Linda Straub and her husband, Kenneth, of Tunkhannock, PA; her granddaughter, Jennifer Sanders and her husband, Timothy, of Sykesville, MD; and her great grandchildren, Abby and Lexi Sanders.

She was preceded in death by her parents, Cloud and Anna Hughes; her brother, Cloud Hughes, Jr; her sisters, Bette Anderson and Dorothy Todd; a baby brother; and a great granddaughter, Taylor.

Memorials may be made to the Alzheimer Association in care of the Davis Funeral Home, 2203 W. Main Street, Riverton, WY 82501.

On-line condolences may be made to the family at www.TheDavisFuneralHome.com

Services are under the direction of the Davis Funeral Home.