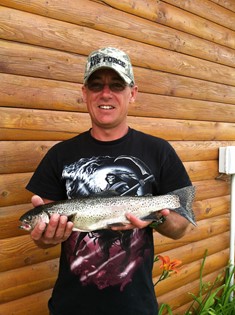 Peter T. Epperson, Jr.
Nov 5, 1971 - Oct 4, 2014

Peter T. Epperson, Jr., 42, of Dubois, died on Saturday, October 4, 2014. A memorial service will be held on Saturday, October 18, 2014, at 4 p.m. at the Mt. Calvary Lutheran Church in Dubois. There will be a reception afterward at the Dubois VFW.

Peter Thomas Epperson, Jr. was born on November 5, 1971 at Offutt Air Force Base Nebraska, to Peter T. Epperson, Sr. and Georgia Ann (Jolly) Epperson. He graduated high school from Zweibrucken American High School, at Zweibrucken Air Force Base Germany in 1990.

In high school, he was involved with the Junior ROTC where he became interested in joining the U.S. Air Force, which he did after graduation. He earned degrees in Personnel Management and Computer Programming while serving. He served for several years and was honorably discharged.

He was a member of the Mt. Calvary Lutheran Church of Dubois.

He worked for Wind River Meats and also was self-employed before his passing.

He enjoyed fishing, the outdoors and movies. He had a great sense of humor and was a practical joker; he made friends quickly wherever he went. He enjoyed cooking and was talented in that area.

He is survived by his mother, Georgia Jolly Epperson of Dubois; his father, Peter T. Epperson Sr. of Corpus Christi, TX; his son, Peter T. Epperson, III of Auburn, NY; his daughters, Kaitlin Epperson of Auburn, NY and Jolie Epperson of New Iberia, LA; his sister, Aubree Poston of Lander, WY; his aunts, Susan Jolly Parker and Jody Peck both of Dubois, and Dion Jolly of Riverton ; his uncle, Mike Jolly of Riverton; and his grandmother, Belle Epperson of Rock Springs, his grandfather Kenneth Epperson of Vista, CA, Uncle Eric Epperson of San Diego, CA, Aunt Frances Friday, of Las Vegas, NV, Uncle Dwight Epperson, of Mesa, AZ, grandson Zayden Epperson of Auburn, NY and numerous other family members.

Memorials may be made to: The Chance Phelps Foundation, Western Fremont County Humane Society, or Fremont County Suicide Prevention in care of Davis Funeral Home, 2203 West Main Street, Riverton, WY 82501.

On-line condolences for the family may be made at theDavisFuneralHome.com.

Arrangements are under the direction of the Davis Funeral Home.