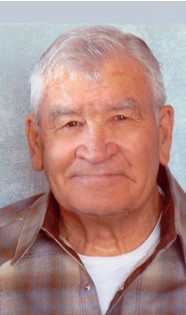 Bruce Hays
Aug 27, 1929 - Nov 8, 2014
Our beloved Bruce Hays passed away November 8, 2014 at Sage West Medical Center, Lander, Wyoming.

Bruce was born to Helen Claire Brown Hays and John Cliffton Hays (Jack) in Rawlins, Wyoming August 27, 1929. His aunt Dorothy Burgess delivered him in the breach birth, as the doctor was inebriated and unable to assist.

In 1950 Bruce married the love of his life, Joyce Jeanette Papp in Meridian, Mississippi. Together they traveled the west and Bruce worked at many different jobs. He worked as a dairyman, and as a pipe layer on the Big Inch Natural Gas pipeline. He worked throughout the west in the oil field, and later in Dubois he worked in the timer industry for Wind River Logging and Louisiana Pacific Corporation. After retiring from LP he continued to log in Montana. He worked for Sinclair Corporation in Rawlins before finally returning to Dubois delivering propane for several years. Bruce was not good at retirement …

Bruce enjoyed living in Wyoming and working in the outdoors, he joked that logging was the perfect profession – they paid him to spend time in the beautiful mountains, and the company paid for the fuel! Daddy enjoyed snowmobiling, first with his dear friends Glavis, Bill and Rodger racing at the cross-country course and later sharing that passion with his grandsons.

Daddy loved studying and collecting the frontier maps of Wyoming and enjoyed knowing the many stock trails (driveways), mountain names and old forest roads. He was well read and knowledgeable on all things west. He liked singing the old western songs and playing his harmonica. He was a joyful spirit.

Bruce was preceded in death by his Mother and Father, his brothers, Phillip Hays and wife Aggie, Richard Hays and wife Marie, Bennette Hays and wife Shirley, his sister, Jacqueline Hays Skovgard and husband James, his niece Karen Trenary Smith, and his brother in law, Ralph Trenary, and his cousin, Betty Fox who died October 2014 in Riverton.

He is survived by his wife Joyce Jeanette Papp Hayes, his daughters, Patricia Hays Moore (Gary) of Riverton, Michele Hays Johnson (Steve), of Fort Collins, CO, his sister, Marion Trenary, Billings, MT, his grandsons, Troy Hays Moore and Joseph Claude Moore, Boseman, MT and numerous nieces and nephews, and his Big Black Dog, Clyde.

Bruce was the past Grand Master of Dubois Masonic Lodge 53 and Masonic Rites will be preformed.

Donations to Dubois Masonic Lodge #53 would be appreciated in care of the Davis Funeral Home, 2203 W. Main Street, Riverton, WY 82501.

Please join us for a celebration of Bruce's life at the Headwaters Center, Dubois, WY at 11:00 am on Friday, November 14, 2014.