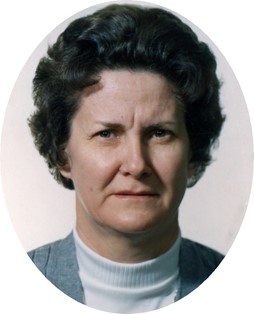 Bette Martin
Apr 7, 1925 - Nov 30, 2014
Bette Wolfe Martin, 89, of Riverton, died on Sunday, November 30, 2014, at Westward Heights in Lander. A graveside memorial service will be held on Thursday, December 4, 2014 at 2:00 pm at Mountain View Cemetery.

Bette Marie Wolfe was born on April 7, 1925 in Eaton, Colorado to Jacob and Katherine (Hilzer) Wolfe. When she was seven years old the family moved to the Morton area in Fremont County, Wyoming. She graduated from Riverton High School with the class of 1944.

On September 23, 1944, she married Alfred W. Martin in Riverton, WY. They raised their three children, Gary, Rick, and Donna, in Riverton, where she was a stay at home mother and wife.

Her family said that she loved her children, grandchildren and great grandchildren. She loved being with family while traveling, snowmobiling, camping, and playing cards.

She is survived by her sons, Gary L. (Rosemary) Martin of Lander and Rick D. Martin of Cody; her daughter, Donna (Eugene) Mowrey of Riverton, WY; her grandchildren, Lisa Ruggeri, Eric (Heidi) Clemens, Erin (Johna) Martin, Tory Krestch, Brian Martin, Alex Martin, Ricki Martin, Trina (James) Tardoni, Shaylinn Kaiser, and Monte Wright; her great grandchildren, Kraig Clemens, Mandi Clemens, Abigail Clemens, Eric David Clemens, Jr., Ivan Tardoni, Grant Tardoni, Rachael Tardoni, Laina Martin, and Shantle Wright; her sister-in-laws, Rose Marie (Leslie) Saunders, Carol Martin, and Effe Jean Mendoza; and brother-in-laws, Tony (Claudetta) Swasso, George Martin, Don Ham, and Raymond Swasso; and many nieces and nephews.

She was preceded in death by her parents, Jacob Wolfe and Katherine Hilzer Wolfe-Lofink; her step-father, Conrad Lofink; her husband, Alfred W. Martin; her grandparents, Conrad and Margaret Hilzer from Russia; her brother Henry Wolfe; her sisters, Ann Winters, Leona Coskey, Elsie Herman, Mae Galloway, Helen Smith and Peggy Ham.

On-line condolences may be made to the family at www.TheDavisFuneralHome.com

Memorials may be made to the Alzheimer's Foundation in care of the Davis Funeral Home, 2203 W. Main Street, Riverton, WY 82501.

Services are under the direction of the Davis Funeral Home.