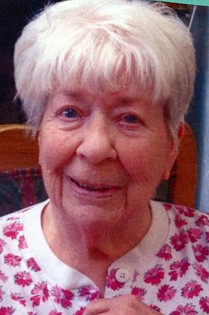 Grace Kehl
May 21, 1926 - Dec 3, 2014
A Celebration of Life for Grace May "Gracie Mae" Kehl, 88, who died December 3, 2014 at Kindred Healthcare and Rehab – Wind River in Riverton, will be held in early Spring of 2015.

Gracie Mae was born May 21, 1926 in Blair, Nebraska, daughter of Archie and Lenora Green.

On August 18, 1945, she married Tony A. Kehl in Scottsbluff, Nebraska. They moved to Riverton in 1961 from Nebraska. Grace worked part-time as a secretary for School District #25 and also worked at the Radio Stations KVOW/KTAK. She was a full-time homemaker and in her later years assumed the role as caregiver to her husband.

Mrs. Kehl enjoyed playing cards, especially Bridge parties. She also loved to cook, dance and travel, particularly if the destination included a Casino.

Gracie Mae was one of the founding members of St. Johns Lutheran Church.

Survivors include her sons, Steve Kehl of Green Valley, AZ, Jeff and Karen Kehl of Riverton; daughters, Toni Kehl of Vacaville, CA; 7 grandchildren, Regan and George Marynowski of Riverton, Adam and Harvest Kehl of Riverton, Kent Kehl and Shane Kehl all of Riverton, Ryan and Teela Krystek, Robin Krystek, and Jay Kehl all of California; great grandsons, Braden and Easton and great granddaughters, Peyton, Chandler and Ava.

Mrs. Kehl was preceded in death by her parents, husband Tony and brothers, Archie and Buck.

On-line condolences may be made to the family at TheDavisFuneralHome.com

Memorials may be made to the Kindred Healthcare and Rehab Reflections Unit, in care of the Davis Funeral Home, 2203 West Main, Riverton, WY 82501.



Services are under the direction of Davis Funeral Home.